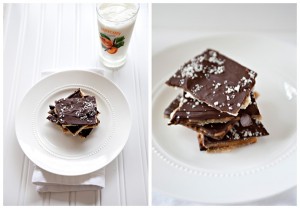 We don't celebrate Passover in our house but we do celebrate all things toffee. With matzoh- readily available this week- plus a few ingredients I already have in the pantry, I'll be trying this simple dessert.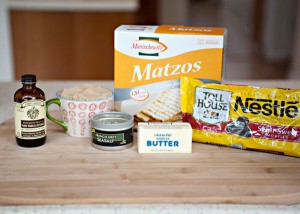 Salted Toffee Matzoh
4 Matzoh (unsalted)
1 stick of butter
1 cup of brown sugar
1 teaspoon vanilla
1 package chocolate chips
sea salt
Instructions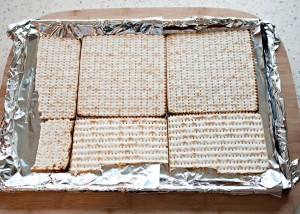 Line a cookie sheet with foil. Arrange the four pieces of matzoh on the cookie sheet to fit.
Melt the butter in a saucepan.
Add the brown sugar.
Let the butter and sugar cook until it bubbles and the sugar has melted. Add the vanilla off the heat.
Bake the matzoh in a 250 degree oven for 25-30 minutes.
Cover the matzoh with the bag of chocolate chips. Put the cookie sheet back in the oven for another 3-4 minutes or until the chips start to melt.
Spread the chips evenly over the top of the matzoh.
Sprinkle the sea salt over the top. If you don't want to use salt (I happen to love the sweet/salty combo, but not everyone does) you can top it with nuts, coconut, Heath bar, white chips, whatever you can think of. Dried fruit might be delicious. Hmmm…
You want a pretty generous sprinkling of salt.
Let it chill in the fridge for 2 hours or until it is set. Break it into pieces and you are ready to serve.