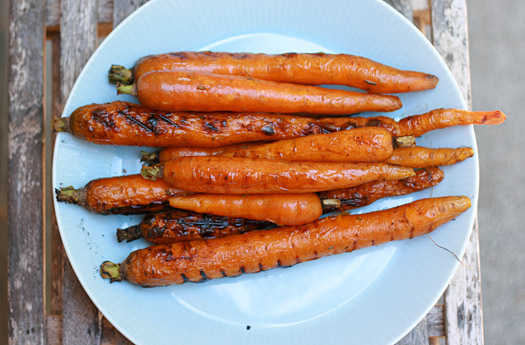 photo creds: simplebites.net
Take the carrot to another level of yum. Naturally sweet yet we seem to either eat them raw or roasted with brown sugar. This evening throw them on the grill with a simple mixture of rosemary, butter and balsamic vinegar. I came across this recipe from simplebites.net and discovered I have a newfound respect and admiration for this taken-for-granted veggie.
Ingredients:
1 lb carrots
4 tbsp butter, melted
1 tbsp balsamic vinegar
1 tsp chopped fresh rosemary


Directions:
Heat grill to a medium flame.
Wash carrots and peel, if desired. If your carrots have the fronds still attached, trim to about half an inch, and you'll have a built-in handle to eat with later.
Whisk together butter, vinegar, and rosemary. Arrange carrots on the grill (or in grill basket) and brush butter mixture over the carrots.
Grill for approximately 20 minutes, turning halfway through and applying more of the butter mixture.
When done, pile into a serving plate and brush on the remaining butter mixture.