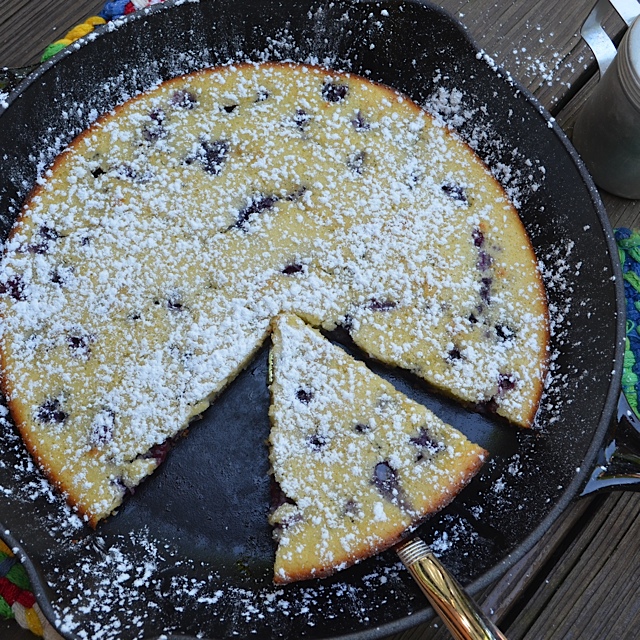 prepared by and photo by Emily S. Downs

Great idea from Martha Stewart Magazine… making a giant pancake so you aren't standing over a hot griddle or stove making stacks while everyone else enjoys them. We know as the cooks in the family that to be true. The one to eat last. But with this idea, you get to enjoy the dish at the same time. Imagine that…

Size:

serves 4



Ingredients:
1 cup all-purpose flour
3 tbsp plus 1 tsp granulated sugar
1 1/2 tsp baking powder
1/2 tsp coarse salt
3/4 cup whole milk (I have used skim milk, and worked as well)
1 large egg, room temperature
2 tbsp unsalted butter, melted, plus 1 tbsp for pan
1 cup blueberries (about 5 oz)
Confectioners' sugar, for serving
Maple syrup, for serving



Directions:




Preheat oven to 375F with rack in upper third. Place a 10″ cast-iron skillet (or other nonstick ovenproof pan) in oven. Whisk together flour, 3 tablespoons granulated sugar, baking powder, and salt in a bowl. Whisk together milk, egg, and melted butter in another bowl. Whisk milk mixture into flour mixture until just combined.

Remove skillet from oven and add remaining 1 tablespoon butter, swirling to coat. Pour in batter and smooth top with an offset spatula. Sprinkle evenly with blueberries and remaining 1 teaspoon granulated sugar.

Bake until golden brown and cooked through, about 25 minutes. Remove from oven; let cool 5 minutes before dusting with confectioners' sugar and serving with syrup.