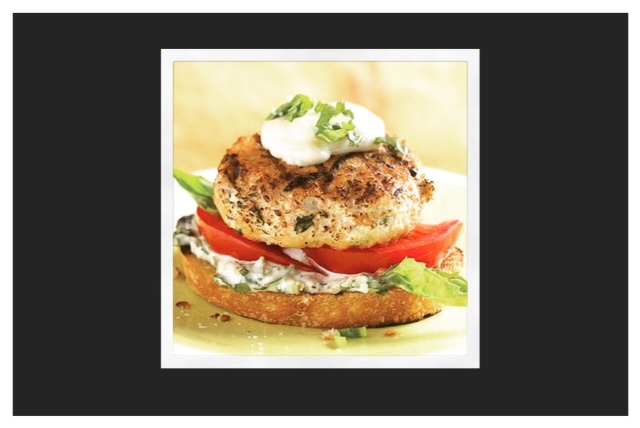 photo creds: epicurious.com (via Instagram)

Take advantage of the fresh basil at the markets and in your own gardens. Grilled chicken burgers can be boring, but not these bad boys. The secret ingredients in the accompanying mayonnaise are pickles and basil. Garden fresh these burgers are, if that's at all possible. Complete with a thickly sliced tomato served atop it's on bread "plate", a complete dish is served.

Size:

makes 4



Ingredients:
Olive oil (for brushing grill/bread)
1 cup mayonnaise
1 1/4 cups chopped fresh basil plus 8 large leaves, divided
3 tbsp chopped drained cornichons or dill pickle plus 1 1/2 tbsp brine from jar
2 green onions, finely chopped
1 1/4 lbs ground chicken
4 1/2" thick slices country white bread
4 1/3" thick slices large red or orange heirloom tomato



Directions:




Brush grill with oil; prepare barbecue (medium heat). Mix mayonnaise, 1 cup chopped basil, cornichons, brine, and onions in small bowl. Season basil mayonnaise with salt and pepper.

Mix chicken and 1/2 cup basil mayonnaise in large bowl. Using wet hands, shape chicken mixture into flour 1/2″ thick patties. Sprinkle with salt and pepper. Brush bread with oil.

Grill bread until crisp and golden, about 1 minute per side. Transfer bread to plates. Grill burgers until firm to touch and cooked through, about 5 minutes per side (I brush oil on grill again so burgers don't stick).

Spread bread slices thickly with basil mayonnaise. Top each bread slice with tomato, 2 basil leaves, burger, and dollop of basil mayonnaise. Garnish with remaining chopped basil.