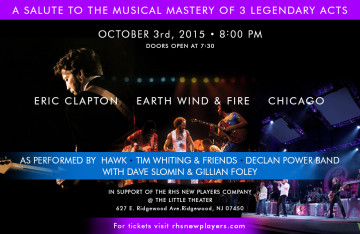 On October 3, 2015, The Ridgewood High School New Players will perform "Rock the Town"a salute to the musical mastery of 3 Legendary Acts: Eric Clapton, Earth Wine & Fire and Chicago performed by Hawk, Tim Whiting & Friends and Declan Power Band with Dave Slomin & Gillian Folley.
The New Players Company is dedicated to offering students the highest caliber of theatre education by providing them with a wide range of experiences during their high school years.
The performance will be held at The Little Theater, 627 East Ridgewood Ave, Ridgewood, NJ at 8pm. Doors open at 7:30pm. Proceeds benefit the RHS New Player Company.
Tickets are $20 for adults; $10 for students, seniors and staff.
For tickets and more information, visit: rhsnewplayers.com