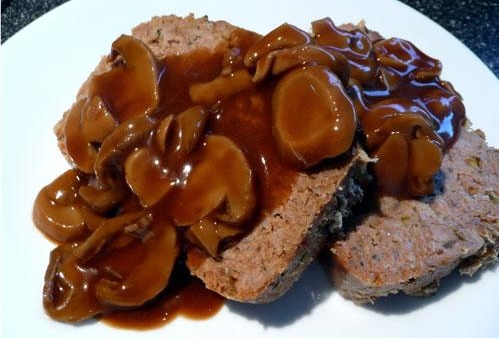 photo creds: food.com

Not going to lie… the gravy takes some time due to all of the chopping. It makes more than you'll need, so it's worth it for that alone. Freeze the rest or use later in the week over some pork chops, roasted turkey, or mashed potatoes. The meatloaf is super moist and did I forget to mention that the gravy is OUTSTANDING? One of the best. Thanks to Bon Appetit, 2010.

Size:

one 9x5x3" loaf



Ingredients:
GRAVY:
2 tbsp olive oil
1 1/2 lbs crimini (baby bella) mushrooms, sliced
1 1/2 cups chopped onion
1 1/2 cups chopped celery
1 1/4 cups chopped shallots
6 garlic cloves, chopped
1 tbsp chopped fresh thyme
1 cup dry red wine
6 cups low-salt beef broth
2 tbsp (1/4 stick butter) room temperature
1 tbsp all-purpose flour
1/4 cup heavy whipping cream
MEATLOAF:
2 tbsp olive oil
2 1/2 cups thinly sliced leeks (white & pale parts only; 2 to 3 large)
8 oz thinly sliced crimini (baby bella) mushrooms (about 3 cups)
6 large garlic cloves, chopped
2 tbsp Dijon mustard
1 tbsp Worcestershire sauce
1 tsp salt
1 tsp freshly ground pepper
2 large eggs, beaten to blend
1/2 cup crushed crackers (Ritz)
2 lbs ground beef (20% fat)
2 tbsp heavy whipping cream



Directions:




GRAVY: Heat oil in heavy large pot over med-high heat. Add mushrooms, onion, celery, shallots, garlic, and thyme. Sauté until veggies are soft, about 18 minutes. Add wine and boil until reduced to glaze, between 5-8 minutes. Add broth. Boil until mixture is reduced to 4 cups, between 30-40 minutes.

Blend butter and flour in small bowl to smooth paste. Whisk cream and flour paste into gravy. Simmer until thick, stirring often between 5 to 10 minutes. Season gravy with salt and pepper. (Can be made 1 day ahead. Cool cover and chill. Re-warm before using).

MEATLOAF: Preheat oven to 350F. Heat oil in large skillet over medium-high heat. Add leeks, mushrooms, and garlic. Sauté until soft, about 10 minutes; scrape into processor. Add mustard, Worcestershire sauce, salt, and pepper. Blend until coarsely chopped; transfer to large bowl and cool.

Mix eggs and cracker crumbs into vegetables, then beef and cream. Transfer to 9x5x3″ loaf pan. Bake meatloaf until thermometer inserted into center registers to 160F, about 1 1/4 to
1 1/2 hours. Let meatloaf rest 15 minutes; turn onto platter. Serve with gravy.