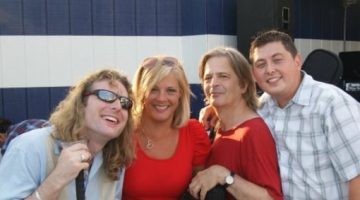 Call me a groupie, but for the past (gasp) nearly ten years I have been an avid follower of a young musician named Danny Kean. Danny has been blind since birth and at the young age of two, he began piano lessons and mastered the instrument shortly thereafter. He went on to reach such impressive strides such as playing with the revered Stevie Cochran and then with blues legend, Sam "Buzman" Taylor in NYC. As a teenager, he won an appearance to perform at the Apollo Theater and won three nights in a row!
Since then, Danny has performed non-stop, produced for others and maintained his Long Island roots. I have witnessed Danny blow the socks off a crowd of young adults as well as a room of old-timers. His sound is reminiscent of Stevie Wonder, and his keyboard talents are unmatched.
As a youngster he was told by a piano tuner that he had perfect pitch. Listening to Danny over the past decade, I can vouch that I have never, ever heard him miss a note. He surrounds himself with talented musicians he calls "friends" – my favorite two namely being Mr. Phil Bloom – drummer extraordinaire and the master guitarist, Donny Celenza. I urge you to look at Danny's website, hear his music – my personal favorite is the original ballad "I See You" , and find him wherever he may be playing on the Island. I guarantee he will provide you with a night of entertainment, inspiration, humor and awe. Don't be surprised if he pushes his keyboard away and grabs a guitar – or maybe even jumps behind the drumset. He is multi talented and an expert at each instrument he plays! Recently he made his acting debut in a travel commercial promoting Quebec. Take a minute to watch, and you too will fall in love with Danny Kean.