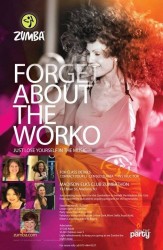 Madison Elks Club Zumba-thon
Saturday, March 12
Doors open at 6:00PM
ZUMBA from 6:30-8:00PM with 4 certified instructors
Join Emma Dark and her fellow instructors and ZUMBA the night away!
If you recall a few months back we published an article about the special needs dance class that Emma teaches at the Elks Club every Monday.
In an effort to show her gratitude for the generous use of their space, Emma and her friends came up with the idea for a Zumbathon, with all proceeds benefitting the ongoing community support of the Madison Elks Club.
Bring a friend, or two, or three!   Feel good, moving and grooving to some great music, and just have fun!
All proceeds will benefit the Madison Elks Club
$15 per adult
$5 per child over 5