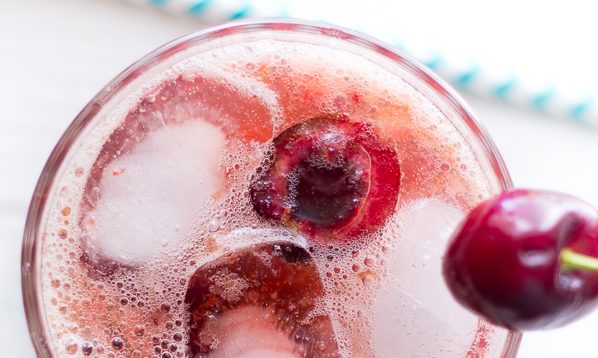 If you like or love Sangria, than this wine cocktail is right up your ally.  Lemon juice and sour cherries are paired up with a dry rose wine and a bit of gin.  The gin adds a perfect kick.  Rose wine is seasonal so be sure to snatch up a few that are left in your favorite wine retailer.

Size:

serves 8-10



Ingredients:
3/4 cup sugar
3/4 cup water
1 cup fresh or thawed frozen sour cherries, pitted
16 oz London dry gin
1/2 cup fresh lemon juice (from about 4 lemons)
1 bottle (750ml) chilled dry rose wine
Ice
Lemon slices, for garnish



Directions:




Bring sugar and water to a boil in a small pot.  Reduce heat, and simmer, stirring until sugar dissolves.  Remove from heat, and let cool.  Simple syrup can be refrigerated up to 2 weeks.

Combine syrup, cherries, and gin in a 3 qt pticher, and refrigerate until cold, at least 2 hours and up to 6 hours.  Stir in lemon juice and wine.  Serve over ice, and garnish with lemon slices.