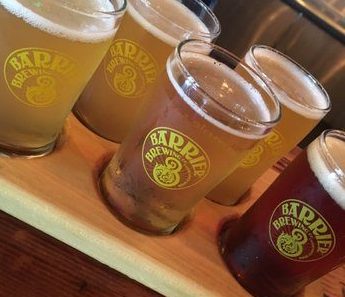 Located at 3001 New Street in our neighboring Oceanside, is the craft beer drinker's delight – The Barrier Brewery. This Brewery and Tap room started in 2009 and, as stated in their company overview, "Barrier Brewing Co. is the collaborative effort of brewers Evan Klein and Craig Frymark, located in Oceanside, NY. Brewing their first batches on a 1bbl system (2 kegs at a time!) in June 2010, the two expanded the business to a 5bbl brewhouse in June 2012 which operated for four short months before being severely damaged by Hurricane Sandy. After several months of rebuilding, Barrier reopened in late-February 2013.
The brewery currently produces nearly 50 different beers throughout the year totaling 1500bbl annually, all of which is self-distributed throughout the NY metro area." I have witnessed firsthand the expansion of this brewery. When first coming to this town, there were barely any local establishments that carried Barrier on Tap. Now, it would be the exception to NOT carry this Brewery's beer on tap.
They are a local brewery and Tap Room which translates to– it is not a bar. There is no kitchen on premise. However, there is a food truck outside at all times, and fresh popcorn waiting to be scooped up as you imbibe. Their flights are half price on Wednesdays, and this is very convenient for those who want to sample as many of their fifty brews as possible.
Also, a perk for me – they are beyond dog friendly. At any given time a patron can be seen picking up a growler with his pup in tow, or sitting down playing a game of chess with their canine companion tied to the leg of the table. The decor is industrial chic, with art on the wall from local artists. The entire vibe is inviting and there hasn't been a single time where we have gone without exchanging numbers with a really cool couple or two.
The Barrier is closed on Mondays and Tuesdays and is open Wednesdays and Thursdays from 4-10, Fridays 3-10 and Saturdays noon – 10 and Sundays Noon – 5pm. Considering this brewery is merely a few miles up the block in neighboring Oceanside, it would be a disservice if you didn't plan a visit there one day soon.  Supporting local business is what it is all about!