There is an old saying, "The only minor surgery is one that happens to someone else." No matter the procedure, surgery is scary. When your child is the patient, it can be downright terrifying. The outcome is of course the most important consideration, but reducing the stress of the overall experience is key for avoiding emotional trauma, is beneficial toward healing, and studies show, plays a part in achieving an optimal result.
Recently, a friend brought her son to Bergen Oral Maxillofacial Surgery (BOMS) for an emergency dental surgery. She was extremely pleased with the experience, raved about the office, the staff and the doctors, and her son left with a healthy mouth and a really healthy attitude toward surgery.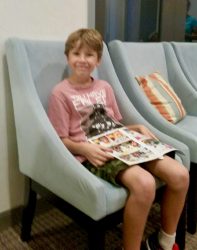 Since it seems they are doing something right, I asked Dr. Jason Diamond at BOMS what his practice does to help prepare patients.
We understand that any procedure involving a child can cause anxiety for both the patient and the parent. With that in mind, we want to do whatever we can to make this experience as pleasant as possible.

When possible, a consultation appointment is a great start because we can tell the child and parent exactly what to expect, while also showing them our facility, including some of the equipment that will be used. By doing that, on the day of the procedure, no one is walking in to an unfamiliar place. Additionally, many of our cases are done with intravenous anesthesia, something that seems to unnerve most parents. During the consultation, we will explain our extensive training in this field, our experience with sedation and our emergency and safety plans.

Once the procedure and protocol have been explained, we welcome any questions – and there are often a lot. We assure them that it's normal to be anxious and ask what makes them nervous about the procedure.  By doing so, this gives us an opportunity to dispel any myths and address any concerns.

When patients are confident in our abilities, anxiety tends to dissipate. Every step we can take to boost a patient's confidence makes the procedure day better – for patient, caregiver and doctor.
READ: What to Do When Your Child Loses a Permanent Tooth
The above advice is applicable to any scary medical appointment. Feeling comfortable enough to ask questions and being confident in the providers, will go a long way toward easing stress. Remember, less stress = better outcomes.
When faced with an emergency and there is no time to prepare, stay calm. Your child will mirror your behavior. Even if your insides are screaming, maintain your composure, keep your voice low and your emotions in check. Easier said than done, but take deep breaths and focus solely on your child and the situation at hand.
As difficult as it is to imagine your child hurt, make an emergency plan when there is no emergency. If your child breaks a bone, who are you calling? If your daughter hits her head, where are you taking her? If your son gets hit in the mouth or lower face with a ball, a puck or a stick, I would have BOMS on speed dial. It is wise to keep numbers for an orthopedist, a neurologist and an oral surgeon in your phone. Hopefully, you will not need to use them, but better to have and not need …