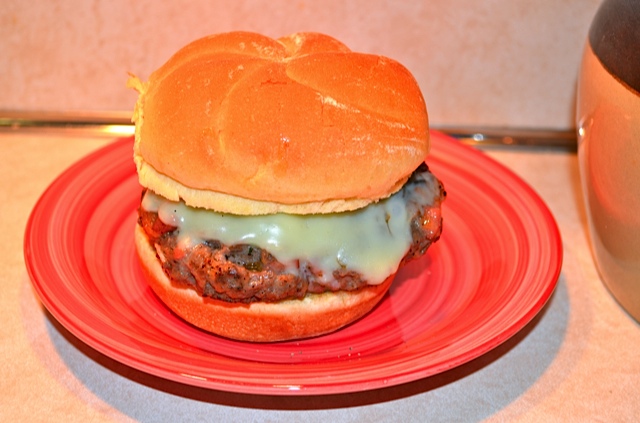 prepared by and photo by Emily S. Downs
This is the last entry for 2012 Burger-of-the-Week… Bummer, I know, but what better concoction than the two numero uno grilled "meats" of the summer months?  The answer is a perfect patty incorporating hotdogs and cheeseburgers.  Please read on and get grilling!
Size:

6 -8 burgers



Ingredients:
6 all-beef hot dogs, chopped
1 1/4 lb ground beef (80/20 fat)
1/2 cup finely chopped onion
1 clove minced garlic
1 egg
1 1/2 tbsp fresh basil
3/4 cup crushed Cheez-itz crackers
1 tsp salt
1 tsp pepper
6 slices American cheese
6-8 burger rolls
Ketchup, mustard, relish and anything else you'd like to enhance your burger/dog experience



Directions:




Preheat grill to medium and lightly oil grate.

Mix all ingredients (except for cheese, rolls & condiments) in a bowl and form into hamburger patties.

Toast rolls.  Set aside.

Grill burgers for 10 minutes on each side.

Top with cheese and continue to cook until cheese is melted.

Place grilled burgers on toasted rolls and load up condiments if so desired.