This weekend is the last weekend before we say good-bye to October 2016. Here are a few upcoming events this week to get in the last of some fall and Halloween fun!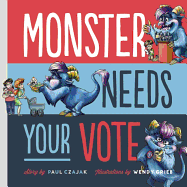 The Town Book Store will be hosting a Meet the Author event and story time with Paul Czajak author of the timely children's book,  Monster Needs Your Vote on Saturday, October 29, 2016 from 2:00-4:00 PM. Election season is here and Monster is ready to vote! But why cast your ballot when you can run for president instead? With speeches, debates, and a soapbox or two, Monster's newest tale is a campaign encouraging kids to take a stand and fight for what they believe in.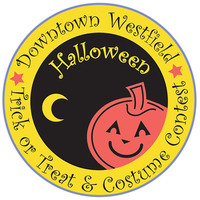 Celebrate Halloween Downtown on Sunday, October 30
The 2016 Halloween celebration of Trick-or-Treat, Parade and Costume Contest are coming to Downtown Westfield again this year on October 30, 2016.
Bring the kids downtown in their costumes to trick-or-treat in the retail stores and restaurants throughout Downtown Westfield from 12pm to 2pm.
The Halloween Parade will start at 2:15pm on Quimby St. and will follow on North Ave., Prospect St., E. Broad St., Elm St. and back to Quimby.
The costume contest starts at 2pm and continues throughout the parade (rain or shine). Costume contest judges will watch the parade and hand out medals and winner cards during and after the parade. All prizes will be awarded at 3pm.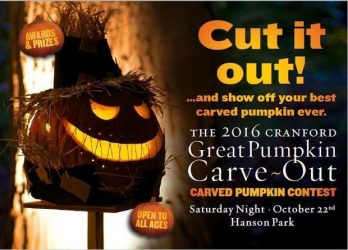 The Great Pumpkin Carve Out
Stop by Cranford's Hanson Park on October 29th to check out some cool jack o' lanterns, or carve one yourself and enter in the pumpkin carving contest.
The contest is open to all ages with awards given for funniest, scariest, and most original in age groups 4-8, 9-12, 13-17 and 18-adult. Drop off your creatively carved pumpkins from 10 -3 pm at Hanson Park, 38 Springfield Ave, Cranford on Saturday October 29th along with a completed registration form.
Stroll along the lighted pathway through the garden of Hanson Park to see the carved pumpkins on display, each on its own pedestals, from 6-9 pm. Be sure to bring your blankets for a big screen outdoor showing of the 1958 camp classic, THE BLOB. The movie, stroll and contest are all free.  Hot cider will be available.
Registration forms are available on line at www.jcas.org or from the Cranford Community Center, 220 Walnut Ave., Cranford before the event.  Pumpkins can be picked up after the event.
For more information go to www.jcas.org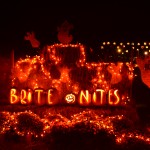 Wagner Farm Arboretum's Brite Nites – Warren, NJ
Returning for a sixth year, Wagner Farm Arboretum's spectacular Halloween-themed event Brite Nites showcases an elaborate display of intricately and creatively hand-carved and lighted pumpkins. Don't miss out on a visit to our Secret Haunted Garden, which is inhabited by ghouls, vampires, ghosts and zombies. There will be wandering entertainers, magicians, musicians, and dancers on hand to make for a night the whole family will remember.

Brite Nites 2016 Dates: October 14, 15, 21, 22, 28, 29 and 30.
Entry times are from 6:45 PM to 8:00 PM.
Where: Wagner Farm Arboretum 197 Mountain Ave. Warren Twp, NJ 07059.
Contact: Lisa Young Email: Britenites@wfafnj.org Tel. 908-656-1402.
Admission: Ticket price includes Pumpkin Path & The Haunted Hollow. $15 per Adult; $10 Senior; $10 Military Police, Veterans & Firemen; $10 Child ages 3 to12; Age 2 and under are free.
Tickets are always available at the gate.