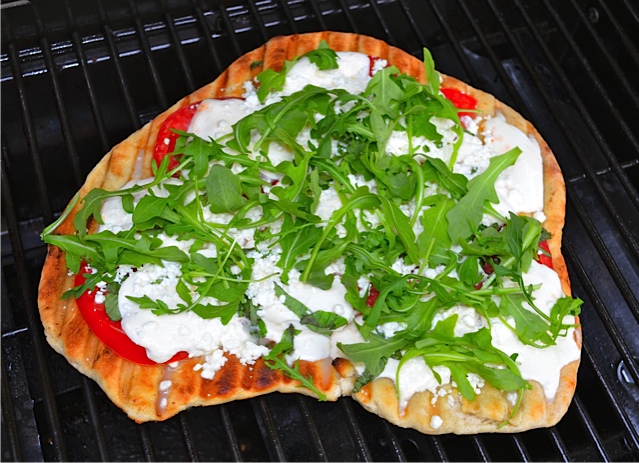 prepared by and photo by Emily S. Downs

I could make these every night.  Very easy to assemble and extremely tasty.  Get the kids involved.  Fun to create different pizza masterpieces.

Size:

one pizza pie



Ingredients:
Package of store-bought pizza dough
Freshly sliced tomatoes or jarred pizza sauce (depends what you want to prep)
Slices (or shredded) of fresh mozzarella, crumbled goat cheese, gorgonzola, etc...
Toppings... sliced basil, arugula, grilled veggies, chopped ham, pepperoni, marinated artichokes... the choices are endless...whatever looks best to throw on



Directions:




Make certain raw pizza dough is room temperature before preparing pizza.On a lightly floured work surface, flatten pizza dough ball into a disk.  Loosely cover with plastic wrap; let rest 5 minutes.  Using a rolling pin or your fingertips, flatten and push dough evenly out from center to form a 9-12″ circle (I find mine never to be uniform).

GRILLING:  The first step is getting the temperature right: You need the grill hot enough so that the dough cooks quickly but not so hot that it will scorch – grill a bit of dough as a test.  The thinner the dough, the faster it will cook.  Brush one side of the well-chilled dough liberally with olive oil before placing it on the grill.  The oil will keep the dough from sticking, and act like a magnet, picking up flavors such as smokiness from the fire.  The dough will crisp almost immediately, so you don't have to worry about it sliding through the grates.  Leave the grill uncovered.

When the bottom of the crust is golden brown and has grill marks (3 to 5 minutes), flip it.  Brush with more oil and add toppings immediately; the second side will be done in just a few minutes.

Add toppings judiciously so that the finished pizza strikes a balance between grilled crust and embellishments.  A modest amount of sauce will ensure the crust remains crisp; too much could make it soggy.  Use pre-grilled or precooked toppings (unless you want to serve them raw, like I did arugula on mine).  The brief time the pizza is on the grill will melt the cheese and just warm the other toppings.

With a spatula, lift up an edge, and then carefully slide the pizza onto a cutting board or baking sheet.  Cut pizza into slices, and serve.