These are so good. Once again I changed this recipe to add some flavor. These are really easy to make and really delicious!!! No processed sugar or gluten.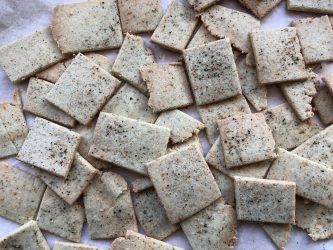 Size:

30 crackers



Ingredients:
1 3/4 cups blanched almond flour
1/4 cup grated parmesan cheese
1/2 tsp sea salt
1/2 tsp pepper
1 large egg



Directions:




Place all ingredients in the food processor. Pulse until dough forms or a crumble mixture that you can mold into a ball.

Separate dough into two halves and place one half in between two pieces of parchment paper and roll it out to 1/16 inch thick. Sprinkle with additional pepper if you like. I love it with more pepper. Remove the top piece of parchment and use a pizza cutter to cut your squares. Place the rolled out crackers on the parchment paper on a baking sheet. Do the same to the second half of the mixture.

Bake at 350 for 8-12 min.