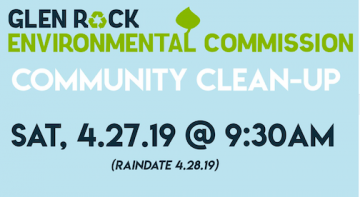 Join your neighbors for the annual, town-wide clean up of all garbage and litter that has gathered during the winter in the public spaces around Glen Rock.​
Anyone can participate! Really, this event is good for ALL AGES.
Children under the age of 13 must be accompanied by an adult.
Pre-Registration is REQUIRED.
The day before the clean-up you will be assigned a location. Volunteers will be spread out all over Glen Rock.
Assume that you will be picking up litter for 2 hours.
Please bring your own gloves. You can buy gardening gloves at most dollar stores (the Fair Lawn store has them) but you can also use winter gloves and simply wash them when you are done.
You may be walking in weeds and brush so we recommend rain boots or sneakers with socks pulled up.
You may also bring a trash picker
Plastic garbage bags will be provided.
BYO reusable water bottle… because the Earth.
Register here: https://www.eventbrite.com/e/2019-glen-rock-community-clean-up-registration-59240434735