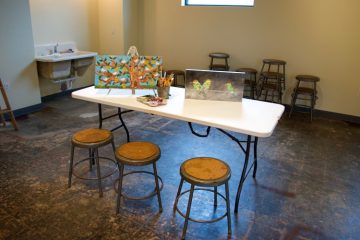 Do you have a creative itch that you're looking to scratch? Or maybe want to check out some local artists?  There is a new art studio that just opened on South Avenue Garwood. It is called South Avenue Arts.  I am so excited to check this place out! I was driving to my daughter's softball game, and this new store front caught my eye. It is the old VFW Hall that has been completely renovated and refurbished and turned into a creative, cooperative community art space.
It is so nice to see some a new local business along that strip in Garwood.
I went home and checked out there website. They are offering reasonably priced art classes for kids and adults. They will be offering workshops and camps as well.  If you are a local artist who doesn't want to work at home, or just that your artwork is taking over your home. They have semi-private and communal art spaces for rent. Additionally, they have a gallery for featuring local artists.
Check them out. They are located at 221 South Avenue in Garwood. Their website is www.southavenuearts.com.
Good luck to them. I think it is a great addition to our local community.