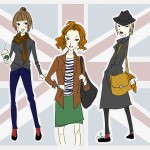 Your little fashionista will enjoy attending a fashion camp. Fashion design camps help girls come up with their own clothing and accessory designs through creative assignments and workshops. They also get to interact with their peers who also have the same interests and goals. These camps are often geared toward kids who wish to pursue a career in fashion. Kids can learn the ropes from fashion industry experts, and even visit fashion showrooms, exhibits and stores. Different camps may be geared to different age groups depending on age and maturity. Have your kids wear their most fashionable outfits so they can get a head start in showing off their unique sense of style.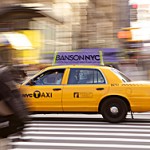 Banson NYC Fashion Summer Camp
Students entering 9th-12th grades who are interested in the fashion industry, a week of educational and "real life" experience. Campers meet professionals, visit style exhibits, attend educational shopping trips, learn basic retail math in creating and managing budgets, discuss various careers in the industry, and stay in brand-new LIM College dormitories on the Upper East Side.
Ages: Grades 9-12.  Location: NYC Phone: 917.328.1469
Sketching, Draping, Pattern Making, Sewing, Jewelry, Mood Boards. Design and Sew Camp.
Dates: July 8 – August 23. Ages: Ages 8 and up. Cost: $225 + per week. Location: Long Island, NY – Marlboro, Freehold, Manalapan, Colts Neck, NJ Phone: 917-696-2814
Camp Blue Tree is a two week residential camp and a creative summer program for girls entering 7th-12th grades. Each session is two weeks long and girls choose two classes per session. "Beyond the Runway" is not your average DIY Class. Fashionistas will learn about putting on a Runway Show from conception to completion. Focus on fashion as an amazing form of self-expression. The Runway element lets girls bring even more personality, performance and creativity into the process. Girls will learn how to choreograph a runway performance; style make-up, hair and accessories; select music and stage the show. All skill levels are welcome, and girls are grouped in classes by skill. The class is limited to 12 girls. The two week residential program in Pennsylvania and Massachusetts. Blue Tree is about doing something new you've always wanted to try.
Dates: July 7 – August 2 Ages: Locations: Bryn Mawr College (Pennsylvania), Smith College (Massachusetts), Stuart Country Day School (New Jersey)
The Handwork Studio offers summer fashion camps nationwide in 7 states from Maryland to Texas. Learn needle arts and machine sewing. Camp Programs for 2013 are Handwork Day Camp (ages 5-12), Fashion & Machine Sewing Camp (ages 10-15), and Fashion Boot Camp (ages 12-16).
Ages: Ages 3-16 Locations: Five locations in New Jersey: Avalon, Montclair, Morristown, Summit, Lawrenceville, NJ
Students learn fashion concepts, sketching, and create garments. This camp is for both aspiring young designers or for those just interested in fashion. Develop skills from fashion illustration to sewing to construction which all lead up to the Finale Fashion Show featuring the students and their work. Future Fashionistas provides a true life trade where creative expression is the key to learning and an encouraging environment is always in style.
Ages: 3 yrs – Teen Dates: June 17 – Aug 2 Locations: Westfield and Livingston, NJ
Lessons in sketching, apparel and accessory design, camp culminates in fashion show. Fashion Camp is an exciting two week intensive program offering students the opportunity to explore various arenas of the fashion world. Students will be introduced to the elements needed to sketch, design and sew their own clothing.
Ages: 8-17 Location: Montclair, NJ Dates: Two Weeks, July 8-19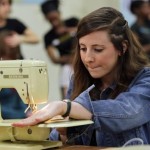 Design Diva at Summer Connections
Design Diva: Participants will begin the week learning about the principles of design, color theory, and fabric science. Each participant will receive their own notebook and a 15" fashion doll on which they will learn how to drape fabric. They will keep all the fabric they choose so that they can start their own fabric library. We will then learn how to design and sketch an outfit they will ultimately create and sew. Once the design is approved, participants will make their patterns and sew the garments. This is a fast-paced, fashion design sewing class created for the new sewer and more experienced sewers alike. Each participant will work at his or her own pace and create individual designs. We will finish the week with fashion show where students model their creations for friends and family.
Dates: Design Diva: July 1 – July 5. Ages: Grades 5-8. Cost: $150 per week. Location: Englewood, NJ Phone: 201-569-9500, ext. 3501
Offering kids a place to mend their sewing skills and develop their fashion senses, Hoboken's Fashion Lab will begin its first week of day camp classes Monday, June 21. Classes will teach basic sewing and fashion design to kids and teens ages 5-13. Open since 2006. Choose what you will make: Stuffed animals and softies, American Girl Doll Clothes, or Fashion Accessories.
Ages: Grades 5-15. Location: Hoboken, NJ. Phone: (201) 876-1198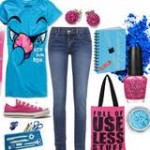 Art For Learning Summer Programs 
Art For Learning offers summer fashion programs for children in grades 4 – 10, starting June 18 and running through August 17. At Art for Learning in Englewood, weekly fashion programs are broken into educational units which can stand on their own. Learn about the design process and concepts through advertising, retail and marketing. All programs travel 2 times a week to the garment district or specialty sites, where they may visit show rooms. They may meet with fashion designers, marketing and merchandising experts; perfume manufactures or attend lectures at FIT and more. Fashion Programs will instruct kids on projects involving design concepts, pattern cutting, sewing, jewelry making, drawing, fabric design, make-up and more. All programs are age appropriate. Kids have the chance to create fashion related artwork and fashion related products they can really be proud of and treasure.
Dates: June 18 – August 17. Ages: Grades 4-10. Cost: $405 for full day per week.  Location: 330 Broad Avenue. Englewood, New Jersey. Phone: (201) 503-9796.
Camp Fashion Design is the home for all fashionistas! Located in the heart of Midtown Manhattan this four day boot camp gives girls ages 12-18 the opportunity to experience what it's like to be a NYC fashion designer! If you like the TV show 'Project Runway' then THIS is the camp for you! The program steps girls through a series of workshops, team challenges and exciting field trips! Meet 'Project Runway' stars, visit Mood fabrics, tour the Garment District, visit showrooms, meet top fashion designers and stylists, have your own meeting with representatives from FIT, NYC's top fashion design school. Learn about sketching, designing, fabric selection, photo shoots, fashion shows and much, much more.
Dates: July 9-12 or July 30-Aug 2. Ages: Ages 12-18. Cost: Hours 9:30 – 4:30. Location: Midtown, NY. Phone: (703) 273-2561.
Calling all fabulous fashionistas – looking for that perfect summer outfit? Learn to make it yourself! Designing summer staples such as sunny shorts, breezy skirts and terrific tops will seem easy as you add one-of-a-kind works to your warm-weather wardrobe! Learn the ins and outs of fashion design from top to bottom, head to toe – the possibilities are endless as they show you how to tap your creative genius. You'll create an entire ensemble, including shirt/blouse and skirt/shorts to show off for the rest of your vacation. And because no look is complete without a bit of flair, make some fun accessories such as belts, scarves and hair pieces. Fashion Instructors guide you through every step of the process, from construction to final fitting. And since every young designer deserves their day on the runway, celebrate the end of the season with a fashion show for friends and family!
Dates: July 30 – August 3. Time: 10:00AM – 2:00PM. Ages: Grades 1-6. Cost: $350 for full day per week. $200 for half day per week. Locations: NJ and NY suburbs PH: 201-568-2289
The 2013 Fashion Design and Sewing summer camp program takes place in the Garment Center of New York City.  Students ages 6-13 learn how to sew and design clothing, draw the fashion figure, and create accessories of all kinds using actual sewing machines in classes taught by professional fashion designers.  The summer sewing camp is split into five classes per day, Fashion Illustration, Fashion Branding, Fashion Design and Sewing, Fashion NYC, and Accessory Design. Each session ends with a free fashion show and expo for parents and friends with a larger fashion show at the end of the summer on our exclusive light-up runway. Concept to Creation™: a fashion design camp for teenagers teaches students all about the Fashion Industry and how to start a clothing line. Students begin by looking at other fashion brands and learn to conceptualize their own brand name, logo and mini collection. From concept to creation our fashionistas will make their collection a reality by choosing fabric, constructing, and sewing their garments and accessories. Next students learn how to take their collection to the fashion market. They will hold a photoshoot, cast models, and create a look book to show to retail store buyers. The camp is not complete without field trips, we will be visiting showrooms and trade shows to see how real fashion companies market their products. Special guest speakers will include press, fashion bloggers, designers, buyers and more.
Dates: June 17 – August 30. Ages: 6-18  Locations: Garment Disctrict, NYC E-mail: Kerri@thefashionclass.com Phone: 646-329-6663