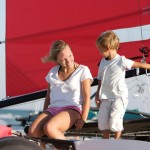 Families learn sailing basics with several companies in the New York and New Jersey area that offer sailing programs for families, just children, or just parents. With the help of an instructor, sailing is an athletic activity, a warm-weather challenge, that families can do together. It's a chance to get out on the water. Sailing lessons are great for children and curious families.
NEW JERSEY
BERGEN SEAS offers low cost Red Cross Certified basic sailing classes at minimal cost at the Red Cross building in Ridgewood. Taught by volunteers who teach sailing because they love to teach sailing. They take people who have never set foot on a boat and leave them knowing how to safely get out on the water in a sailboat and enjoy. Six hours of actual sailing experience on the Monksville Reservoir in Ringwood, N.J. is also included. All graduates receive the American Red Cross Basic Sailing Certificate, and will have gained the confidence, experience and knowledge to sail a boat. The cost is $200 which includes a textbook & use of SEAS boats.
GLEN ROCK COMMUNITY SCHOOL – The American Red Cross Basic Sailing program, teaches the fundamentals of sailing to those who never sailed before, as well as to individuals with some experience. After successful completion of the course, students will receive American Red Cross Basic Sailing Certificate cards. The course consists of four evening classroom sessions and two full-day water sessions from 9 a.m.-4 p.m. aboard SEAS sailboats. Cost of the course includes a text book and use of the boats. Students are required to be able to swim. Cost: $250 per student. May/June Session, July Session, August Session.
OFFSHORE SAILING SCHOOL Liberty Landing Marina, Audrey Zapp Drive, Liberty State Park, Jersey City, N.J.; and Chelsea Piers, Pier 62,West 23rd Street and the Hudson River, Manhattan; (800) 221-4326. Three-day "Learn to Sail" course for two adults, with up to four children 7 to 17 years old enrolling for free.
HUNTERDON NJ SAILING CLUB Sailing classes for youth (ages 11 & up) and adults, at Spruce Run State Park in June and July.   You don't need a boat to start sailing – sunfish sailboats are provided for the lessons. To register, and for the schedule of classes, see the forms on the "Join Us!" page of website, www.sailhsc.org.
NEW JERSEY SAILING SCHOOL The school is located in Point Pleasant/Bricktown on the Metedeconk River. New Jersey Sailing School has been the premier Sailing School in New Jersey and is still the most ASA awarded School in the northeast. NJSS also offers extended weekend trips out to Long Island Sound, down to Atlantic City, sailing on the Chesapeake, and a Virgin Island "Learn to Sail" flotilla trip.
BARNEGAT BAY SAILING SCHOOL LBI. There is a three hour on the water course that is designed to give each student a full hands on sailing experience. Students will take the helm, hoist the main, and trim the jib, under the guidance of a certified ASA sailing instructor.
NEW YORK
ATLANTIC YACHTING 79th Street Boat Basin, Riverside Park, Manhattan; (212) 518-4604, atlanticyachting.com. Three-hour class, $440 for two people, $149 for each extra student. Nine-hour certification course, $990 for two people, $200 for each extra student. Families receive 10 percent discount.
CROTON SAILING SCHOOL Senasqua Boat Basin, 2 Elliott Way, Croton-on-Hudson, NY. (800) 859-7245, Two day course for families. Pay for three people and a fourth or fifth person sails free.
PORT SAILING SCHOOL Brewer Capri Marina, 86 Orchard Beach Boulevard; Port Washington, N.Y.; (516) 767-7245, portsailing.com. Three-day classes for families.
MANHATTAN SAILING SCHOOL Three locations: North Cove Marina, Battery Park City; Shipyard Marina, Hoboken, N.J.; Liberty Harbor, Jersey City, N.J. (212) 786-0400, sailmanhattan.com. Introductory course, one weekend or five weeknights, $390 a person for a limited time.
NEW ROCHELLE SAILING SCHOOL The school, at the Municipal Marina here offers a variety of sailing courses, ranging from the basics of learning to sail to the advanced, bareboat chartering, a necessity for handling large cruising boats.