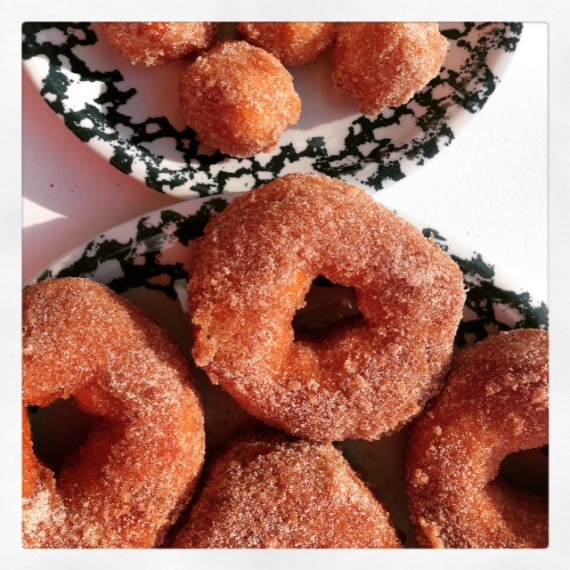 prepared by and photo by Emily S. Downs

You'll swear these came from an old-time bakery they're that decadent. If you've been really good about shedding those dreaded holiday pounds and are in need of a little cheat, these donuts are the way to go.

Size:

8 donuts & 8 donut holes



Ingredients:
Canned biscuits (anything BUT the flakey layer kind... I use Pillsbury Buttermilk biscuits)
Melted butter (in a shallow dish... about 4-6 tbsp)
Sugar & cinnamon... mix to your liking (medium brown mixture)
Vegetable oil... enough to fill up a pan about 1/2"



Directions:




On stove heat oil in pan over medium heat.

While oil is heating cut holes in center of each biscuit with a small round cookie cutter (or some other small circular object… I used a small bell-shaped cookie cutter-but not too small or you'll have a ridiculously small "munchkin" w/little to no donut hole.)

When oil is ready, place donuts/holes in pan. When one side is golden, flip with tongs carefully. Doesn't take long on either side. When that side is golden remove from oil and place on a paper towel lined plate or pan.

After the donuts/holes have cooled enough to handle, using your fingers… dip each side in melted butter, let the excess drip off, and then dip into sugar/cinnamon mixture evenly. Coat the heck out of them… the more the better!