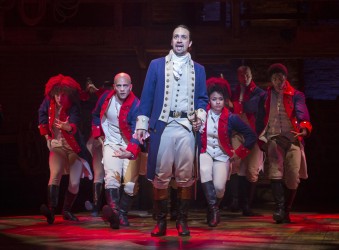 In a word, YES.
I managed to nab a few orchestra seats for "Hamilton" the moment tickets went on sale for it's Broadway run and I'm so glad that I did. I'd been hearing only raves about the show during its four months at The Public Theater downtown, but to be honest I wasn't sure it would hold my interest. A hip-hop musical about one of our Founding Fathers? Hmmm.. But I knew and loved the show's creator, Lin-Manual Miranda, from his first hit 'In The Heights'. Plus, every celebrity in New York was seeing Hamilton. And celebrities are always right, right?
The show, inspired by Ron Chernow's book "Alexander Hamilton", tells the heart-wrenching personal story of it's title character, from immigrant orphan to Treasury Secretary, while reminding the audience how audaciously our country began. It's funny, touching, informative, and highly entertaining. Hamilton's score is a blend of rap, hip-hop, and traditional ballads, with a couple of true show-stoppers. It is filled with brilliant performances, including a cameo by Glee's Jonathan Groff, as an hysterical and petulant King George. Another stand-out is Leslie Odom, Jr. as Aaron Burr, whose rivalry with Hamilton is at the heart of this show, and eventually causes the undoing of both men.
Its hard to explain or describe how much I loved this musical. I want to see it again. The music is so good that I've downloaded the soundtrack and it's on repeat everyday in my car. I might even read the book.
It will take a lot of effort and not a little money to get tickets now, but I imagine that this show will be around for a good long time. Go see it if you can!