125 Dancers ages 6 and Up.
Dancing elves, candies, fairies, mice, and snowflakes.
And a special appearance by Santa Claus.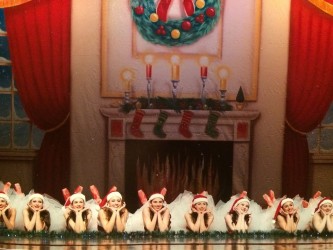 Get in the spirit, Saturday, December 12, for RPAC's 10th Annual Holiday Celebration. The Show features colorful costumes and dramatic backdrops and celebrates both Christmas and Hanukkah. Act One features dancers performing the Second Act of The Nutcracker, including the classic Spanish, Arabian, Chinese and Marzipan dances, and the beautiful Waltz of the Flowers. Act One ends with a variety of lively dances that celebrate the Jewish Holiday of Hanukkah. Act Two is a dance interpretation of The Night Before Christmas, the story narrated by Irish Tenor Ciaran Sheehan.
Performances are being held at Bergen Academies at 12:30pm and 4:30pm.
To purchase tickets online, please visit: http://ridgewoodpac.tix.com
The online ticket sale will conclude Friday evening, December 11th at 11:59PM.
Tickets will also be available at the door on Saturday, December 12th.