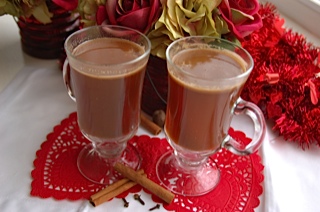 prepared by and photo by Emily Doscher

A yummy version of a hot buttered rum… serve to your honey on a cold winter's night, or to yourself while curled up in your jammies watching your favorite show. Either way, it is a sure way to warm you soul.

Size:

make sone batch load



Ingredients:
1 1/4 cups (packed) golden brown sugar
1/2 cup (1 stick) unsalted butter, room temperature
1/2 tsp ground cinnamon
1/2 tsp ground nutmeg
1/2 tsp ground cloves
1/2 vanilla bean, split lengthwise (found in spice sections in any super market)
4 cups water
1 1/2 cups dark rum
1 1/2 cups brandy
8 cinnamon sticks (garnish)



Directions:




Place brown sugar, butter, cinnamon, nutmeg, and cloves in food processor. Scrape in seeds from vanilla bean (slice down side and use back of knife to scrape). Process until blended (can make this 1 week ahead and wrap in plastic and chill).

Bring 4 cups water to boil in large saucepan. Add rum, brandy, and butter mixture; stir until butter melts. Ladle into mugs and garnish with cinnamon sticks.