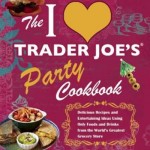 Did you know there are entire cookbooks dedicated to Trader Joe's products? These cookbooks have extremely simple recipes designed to help even the most beginner cook learn how to match up their shopping with their cooking. The Trader Joe's Party Cookbook has great ideas for parties but also has a lot of things that you can just have for dinner.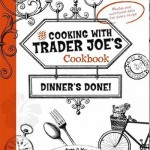 Cooking with Trader Joe's has many versions like Dinner's Done, the College Cookbook and the Easy Lunch Box version. Healthy meals that can be thrown together with literally four ingredients, like a bowl of lentils topped with seared sausage and woken up just a bit with a squeeze of lime. It's really easy to with the help of a prepared product, like TJ's jarred arrabiata sauce, to turn pasta into a gourmet meal. The best part is that even though the books focus on Trader Joe's, many of the ingredients can be found anywhere, not just Trader Joe's.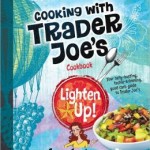 The Trader Joe's Lighten Up! cookbook is chock full of recipes that are nutritionally sound, easy to make and a treat to consume. The Best-Loved Chicken Balsamico is a snap to put together after a long day. The Thai Me Broccoli Slaw makes a fabulous side dish for dinner. If any book can convince you of the benefits of eating well while still enjoying flavorful, interesting food, it's this one.
My friend Ellen is a Trader Joe's Junkie. She turned me onto 1) marinating pork chops in Soy Vay and then thowing them on the grill 2) always having a carmelized onion and ham flatbread in the freezer for a quick appetizer 3) salt and pepper potato chips 4) truffle cheese. This is one of her family's favorite Trader Joe's recipes: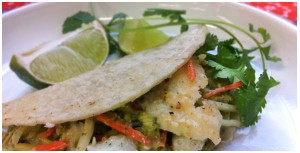 Trader Joe's Sassy Slaw Fish Tacos
1 bag TJ's Broccoli Slaw
1 bottle TJ's Creamy Cilantro Dressing
1 cup TJ's Flour
TJ's Salt & TJ's Pepper, for seasoning
1 package (1 lb.) TJ's Frozen Cod Pieces, thawed & drained of excess liquid
4 tablespoons TJ's Canola Oil
1 package small TJ's Wheat or TJ's Corn Tortillas
1 tub TJ's Chunky & Spicy Guacamole Autentico
In a medium bowl, combine broccoli slaw with cilantro dressing and allow to sit for at least an hour (this can be prepared the night before and allowed to sit in the refrigerator overnight). Liberally season 1 cup of white flour with salt and pepper and dredge the cod in it, shaking off excess flour. In a large skillet, heat 2-3 tablespoons oil and fry fish until golden and flaky. Remove fish from pan and put aside. Wipe skillet clean with a paper towel. Heat the pan again with about 1 tablespoon of oil and heat 2 tortillas at a time, 20 seconds on each side. While tortillas are still warm, spread 1-2 tablespoons of guacamole and place 2-3 pieces of fish along one half. Using tongs, cover fish with broccoli slaw (shaking off excess liquid) and fold tortilla over. Optional Topping Suggestions: a squeeze of fresh lime, chopped fresh cilantro, a few dashes of your favorite hot sauce…