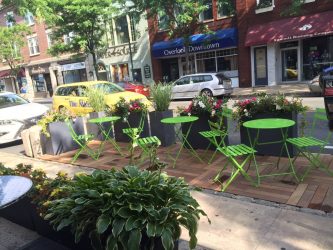 We are loving Summit's first parklet! A parklet is a sidewalk extension that provides more space and amenities for people using the street.
On July 28, Mayor Nora Radest officiated the opening of Summit's first temporary "parklet" on Springfield Avenue in front of Tito's Burritos and Batavia Café taking up just two parking spaces. Summit's first parklet is a sidewalk extension with café tables and chairs, and planters with flowers. Since this is a pilot program, the parklet will only remain installed through the first week in November.
The parklet was approved by Common Council, installed by the Department of Community Services and Department of Public Works, and funded with a contribution from both Batavia Café and Tito's Burritos.
For more about the parklet go to http://www.cityofsummit.org.