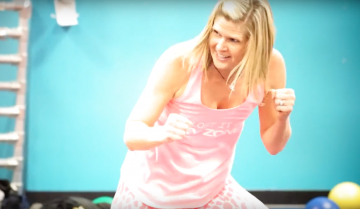 Trainer Sam Crowley Will Keep You on Your Toes…and in the Air!
A friend of mine, Kristin MacPhail, recently tried a workout class that sounded challenging…and fun! And seeing that we have a lot of candy-eating ahead of us, I suggest you give it a shot. She signed up for SkyFit at Skyzone with a mutual friend and trainer, Sam Crowley. I take my kids there and just watching them is exhausting. Similar to what our kids do, you are jumping the entire time–even off the walls. But the jumping is more calculated targeting not just improving your cardio, but your flexibly and core stabilization as well. Skyzone claims that you can burn up to 1000 calories an hour. I believe it watching the video. Plus it's a stress reliever, "Every time I glanced at my friend bouncing up and down on this trampoline," Kristin said, "I started cracking up." This class definitely on my list to try! Schedule below.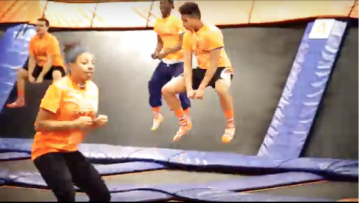 SKY ZONE HIGHLAND HEIGHTS, OH, 750 Alpha Drive , Highland Heights, OH 44143.
---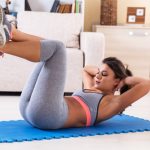 Prefer to Work Out at Home? Check Out Tammy's Routine.
For More Core Exercises See ENGAGE YOUR CORE.