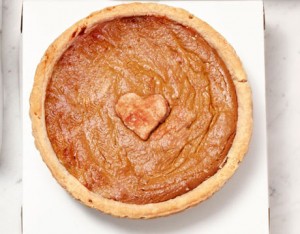 Thanksgiving is a food-lover's holiday. Everywhere you turn, there's talk about what to eat or cook for the big day. What's a food loving person to do if they can't cook? Fake it. That's why we put together this list of the places to buy a Thanksgiving pie online. Volunteer to supply something for the meal's final course and arrive at the holiday dinner with a show stopping dessert. Feel free to be honest about where you bought your pie, or hide away the box, and pull out the antique pie plates.
Pioneer Apple Pies – This Oklahoma treat proves that the outside, a golden double crust, can matter as much as the inside: thick-cut Washington apples. $29.95
Cabela's Double Deep Bourbon Pecan Pie – Deep, flaky crust filled with bourbon praline filling. Topped off with a generous layer of crunchy pecans for a 2.5-lb. sensation. Serves 12. Size: 9″ diameter. $29.99
Kern's Derby-Pie® – This is the real thing – Derby-Pie straight from a small, family-owned bakery in Louisville, Kentucky that specializes in making this wonderfully authentic dessert. Each bite is simply loaded with chopped English walnuts and rich chocolate chips mixed into a sweet filling, then baked in a delicate buttery crust. $49.95
The Little Pie Company Sour Cream Apple Walnut – Topped with a brown sugar, cinnamon and walnut streusel, this delicious pie has been a best-seller at The Little Pie Company in New York City for more than 25 years. $60.
Sugar Pie – A former schoolteacher, My Sugar Pie owner Kelly Maucere makes this decadent rendition of Indiana's official state pie using a family recipe handed down from her mother. $20.99.
Mr. Tod's Sweet Potato Pie – Mr. Tod's Pie Factory launched its New Jersey business with this rich pie–so spicy and savory that it could qualify as a side dish. Shipped fresh, never frozen. $25.
Dangerously Delicious Apple Crumb – This Washington, D.C. bakery puts a twist on the traditional apple pie with a crunchy topping of oats, brown sugar, and butter. $30.