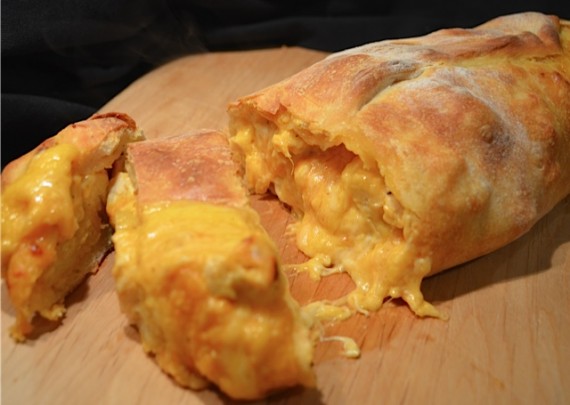 prepared by and photo by Emily Doscher
Thanks to the talents of www.emmalinaviolet.wordpress.com I am passing on this super idea for a Super Bowl party/get-together. No need to have a game on but there is something about football and buffalo chicken that makes sense. This is one gooey, spicy, unforgettable calzone.
Ingredients:
2 boneless chicken breasts
1 tsp olive oil
1 pizza dough (store bought works best... leave sit out 20-30 minutes)
8 oz shredded mozzarella
3 oz of shredded sharp cheddar cheese
1/2 cup of Frank's Wing Sauce (divided)
1/3 cup of ranch or blue cheese dressing (my kids liked ranch... I like blue)


Directions:
Cut chicken into cubes (bite-sized pieces). Season with salt and pepper. Heat the olive oil over medium in a skillet and add chicken when hot. Cook chicken thoroughly and then add 1/4 cup of wing sauce. Stir to coat chicken and let simmer for a minute or two. Remove chicken from heat and let cool.
Pre-heat oven to 425F. Place rack in center of oven. (I recommend using a pizza stone if you have one. Preheat this as well)
Generously flour work surface and spread pizza dough into a long rectangle shape.
Add ranch dressing (or blue cheese dressing) and remaining 1/4 cup of wing sauce. Spread across the dough. Add chicken and then top with mozzarella and cheddar cheese. Add more wing sauce on top of cheese, if desired.
Roll-up the dough like a pinwheel until you reach the end. Make sure to tuck the ends of the dough in so the middle doesn't squeeze out when baking.
Spray baking sheet with light coat of non-stick cooking spray (unless using a pizza stone). Place calzone on the pan and bake for 20-25 minutes. Check at 15 minutes.  You want the top to be a deep golden brown.
Remove from oven when finished baking and let rest for five minutes until cutting.