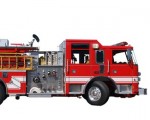 Bergen County will host the 50th anniversary Public Safety Expo on Oct. 17th. It will take place at the Police, Fire and EMS Academies in Mahwah.
Special exhibits will include:
Tours of the 911 facility
Antique fire trucks
Hourly demonstrations on the firing range and fire grounds.
Food will be available for purchase.
Admission and parking is free.
The event will run from 11 a.m. to 4 p.m. In the event of rain, the expo will be moved to Sunday, Oct. 18.
The Police, Fire and EMS Academies are located at 281 Campgaw Rd.