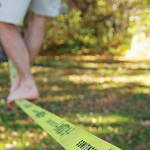 Slacklining is the act of balancing along a narrow, flexible piece of webbing which is low to the ground and usually anchored between two trees. Originating in the climbing world, slacklining has evolved into a cross trainer, backyard activity and sport all of its own.
Gibbon has revolutionized slacklining, once exclusive to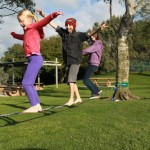 climbers, with the introduction of easier to use systems. This opened up slacklining to everyone and fueled the development of an entirely new sport. Whether you're slacklining in school, your backyard, or on a stage in front of millions you'll find everything you need on their website. Gibbon's design make the line friendlier to walk on and easier to set up. No additional tools or rigging are needed, just the kit and a couple of trees and you're ready to go.
The company has also introduced slacklines (jib and surf) that are made of trampoline material. This new more dynamic type of line has led to a branch of the sport known as tricklining. Now, competitions are held all over the world ranking the best trickliners.