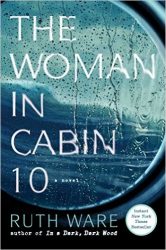 By
Ruth Ware
Year:
2016
Rating:
Purchase:
Buy Now!
The Woman In Cabin 10  by Ruth Ware was exactly what this burnt out teacher needed. My girlfriend Jane recommended the book to me and said she devoured it in a day. I think it took me two days. Ruth Ware succeeded in creating a novel that is both suspenseful and intriguing.
Travel journalist Lo Blackwood is heading off on what many people would deem the press trip of a lifetime; seeing The Northern Lights on-board a boutique cruise ship.The assignment couldn't have come at a better time. Lo's flat was broken into a days earlier and she's pretty shaken up. Time away is just what she needs.
When Lo witnesses the aftermath of a murder, she is informed that no guest ever checked into that cabin and no no-one is missing from the ship. Setting the novel on a cruise ship lent itself to many instances of claustrophobia – making the reader empathize with the heroine. If you like a good, old fashioned whodunit then, this book is for you! Ware admittedly is a fan of  Agatha Christie and boasts that the legendary author inspires her in all that she writes. If you are looking to get lost in the decadent lifestyle of the affluent, and are mentally prepared to be scared, pick up a copy of one of the New York Times' Best Sellers – The Woman in Cabin 10.