38th Annual Morris County Saint Patrick's Day "Charity Parade"
Saturday, March 12 from 12:00pm to 2:00pm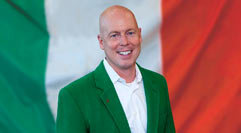 This parade originated as a celebration of the first Saint Patrick's Day Parade held in the United States after America declared independence from England. The first Parade was held in the First National Historical Park of Jockey Hollow.
Some 70,000 spectators come out annually to see the parade along South Street in Morristown. This year's Grand Marshal is Morristown native and second-generation parade leader John Hyland.
Here's a preview of the events taking place prior to the parade
10:15am The Blarney Session Band featuring Traditional and Modern Irish Musi
10:30am Introductory Ceremonies American Legion Post 390 from Denville presents the colors, followed by a 21 Gun Salute
The National Anthem will be sung by Molly Halbach
Introduction by Morristown Mayor Tim Doherty and First Lady Mary Doherty
10: 45am Slattery School of Irish Dance
11:05am Concert by the Thomas Jefferson/Sussex Ave Elementary Schools
11:20am Drew University presents a brief history commemorating the 100th year of the Easter Rising by Kelly Morgan, a doctoral student studying Irish history

11:25am The Blarney Session Band
11:30am De Nogla-Ardmore Academy under the Direction of Emily Endean
11:40am The Blarney Session Band performs during the "Chalking of the Shamrocks" Bethel Ridge (supporting people with special needs) located in Basking Ridge, provides quality programs that enable individuals to reach their highest level of achievement and independence