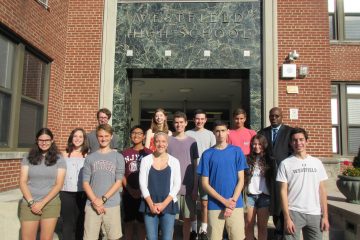 On September 25, Westfield High School Principal Dr. Derrick Nelson (at top far right) congratulated 15 students who achieved the highest score possible on the ACT or SAT standardized tests which are widely used for college admission criteria.  The scores recently received by the school reflect June testing dates.
ACT high scorers include (l-r, first row) Linzy Rosen, English; Kyle Huber, English; Rollins Terry, Composite score as well as Science, STEM & English; Jason Little, Math & STEM (and Math Level 2 in SAT); and Timothy Storms, English.
SAT perfect scores were achieved by (second row, l-r) Alison Brown, Chemistry; Austin Chen, Math Level 2 & Biology; Aryeh Iosif, Spanish;  and Casey Cohen, Math Level 2; and (third row l-r) Benjamin Mizrach, Math Level 2; Lindsey Sharlow, Math Level 2;  Daniel Shenker, Math Level 2; and Zachary Youssef, Physics & Math Level 2.  Not available for photo were Yenteen Hu, Math Level 2 and Juliette Naeveke, French.