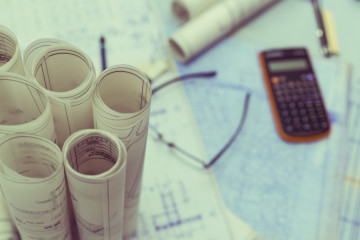 Here are 10 ideas to make your home more appealing–all under $10K. Today's buyers are often caught up in busy schedules and are looking for a home in their price range that is move-in ready. Vision is a key part of real estate.  If you want to sell your home for the most money in the shortest amount of time, you cannot expect all buyers to imagine a home's potential.  Sometimes you have to help them see all that the house offers.  If you just purchased your home and have some work to do, it is helpful to know where to start.
Let's take a look at some improvements under $10,000 that can really make a huge difference and help you get market value for your home.
If you need to put money into your home before it sells, you want to spend it in the right areas.  What you'll get back on your investment depends on the value of your house, the value of houses in your immediate neighborhood, the housing market where you live, how soon you sell after making improvements, and the quality of the project itself. Installing a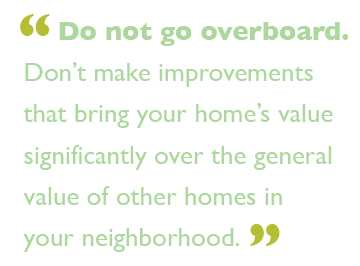 $10,000 stove in a $200,000 house, for example, doesn't make sense. Nor does it make sense to update your kitchen if your house is the only house in the neighborhood with just one bathroom.
Do not go overboard. The value of your home is partially determined by the value of your neighbor's homes, so don't make improvements that bring your home's value significantly over the general value of other homes in your neighborhood. Renovations within the existing envelope of your home – those that don't require you to build an addition or expand the roof and foundation and replacements – often return more value than building extra rooms onto your home. For one thing, they're much cheaper.
Here, are 10 home improvements that will give you the biggest bang for your buck without breaking the bank: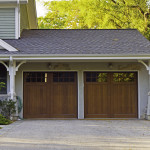 1. Replacement projects. These projects will give you more added value than remodeling projects, according to Remodeling Magazine. Fortunately for homeowners, these types of projects are also the least expensive and add to the home's curb appeal. Start with a new front door! As I mentioned in my last article, curb appeal is crucial, and a new charming front door is worth the money. Consider replacing the garage door, siding, the front door, windows, and new appliances. The average return on investment for these projects is almost 72%.
2. Add a Room Consider converting an attic into a bedroom. Turning attics into usable space can prove to be a very profitable improvement. Create a bedroom suite by closing off a hall bathroom so that it is only accessible through one bedroom. This is another popular project and it doesn't require adding to the home. According to a study by the National Association of Realtors® each additional bedroom adds 4% to the value of the home.
Adding a bathroom, or even a half bathroom, adds significant value to your home, according to the experts at the National Association of Home Builders (NAHB).  Turn a first floor closet into a powder room. A half bath may add up to 10.5% to a home's value, while a full bath can tack on an additional 20%.
3. Spiff up the kitchen and bath. This is a sure bet for adding value to your home and will add enjoyment to your day-to-day life since the kitchen is the heart of most homes. Remodeling a kitchen comes with a hefty cost, and you may only be
able to recoup around 65% of your investment. You don't have to do a major renovation to create a sense of major change. Here are some cheap easy and fast upgrades…
For the kitchen, one of the biggest ticket items are new cabinets.
So if your cabinets are still in good shape but just need a face lift consider painting or refinishing them instead of replacing them. Replacing old countertops can not only add beauty to your kitchen but make it look new and up-to date. The average cost nationally is on average $3000. How much you pay for your countertops will depend on the sizes needed, the materials used and the labor involved. If you're going for stone, like granite or marble, and like the thicker look, expect to pay closer to $10K. But an upgrade like this brings instant dazzle and a sense of luxury to your home. Replacing appliances to Energy Star appliances can refresh your kitchen's look at a fraction of the cost.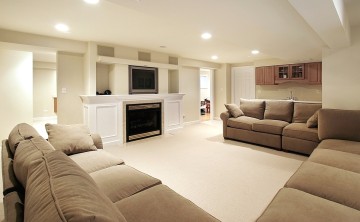 4. Converting the basement into a finished room. This adds usable square footage to the home. Finishing basements is one of the best ways to increase your home's value as it transforms unfinished basements – glorified storage space – into a usable, attractive room.
5. Lighting. Good lighting noticeably enhances a homes appeal. Adding new lighting will allow your home to make a real style statement. Suddenly, an old home can have a contemporary feel.
Consider spending a few thousand dollars to replace a traditional chandelier and a foyer light with something fresh, clean and modern.
6. Floors. Don't undervalue the materials you're standing on. 94% of real estate pros recommend spending some money on floors. But it doesn't have to be a lot of money.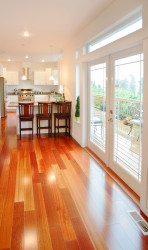 For an estimated average investment of $600 to $900, brokers report that the return in value comes in at up to $2,000. And you can spend even less than that. A few well-placed nails can eliminate distracting squeaks. Other small projects with a big impact include repairing broken tile, patching damaged floor boards, and tossing out the wall-to-wall carpeting.
7. Replace windows with French doors Replacing windows with French doors not add charm, it opens up the house filling it with more light and air flow. It will give the sense of more living space. Suddenly, your outdoor space becomes a usable addition to your interior space. It will make makes the room feel bigger and gives you somewhere to go.
8. Create Space For a few hundred dollars, you'll totally transform the feel of your house by knocking out a non-structural wall, or even removing a kitchen island to open up the space and create a sense of flow. Right now everyone seems to want a wide, open floor plan with the family room right off the kitchen. People are into big spaces.  A kitchen island can be an asset, creating needed storage space. But if the kitchen has enough cabinets, it could pay to haul the island away.
9. Add Storage.  Most new homes come equipped with lots of storage. Older homes, on the other hand, tend to lack even some basic storage options, such as a coat or linen closet. If you lack the space to expand closets or build new ones, consider redesigning the spaces you do have.  Look for unused or neglected space in your . Use space along an awkward wall and create a closet or shelving. Space under a staircase can be used to add drawers, a closet or shelving. Adding this storage will allow you to tuck away the things you don't use making your home feel more open.
10. Add Square Footage. Every 1000 square feet added to a home raises the value by more than 3.%, according to for the National Association of Realtors®.  While that percentage doesn't sound significant, when you put it into numbers it makes a lot more sense. For instance, if your home is valued at $200,000, a 3.3 percent increase adds an additional $6,600 to the value.  Additionally, the 3.3 percent statistic can most likely be adjusted upward based on the age of the study. If your laundry is located in the basement, the value of your home decreases by two percent, so if you plan on adding square footage to the home, build a laundry room on one of the upper floors.
If you want to improve your home and get it ready to sell quickly and at market value, or you are staying put for a while and want to start updates to increase value, then all of this information should at least give you a place to start.