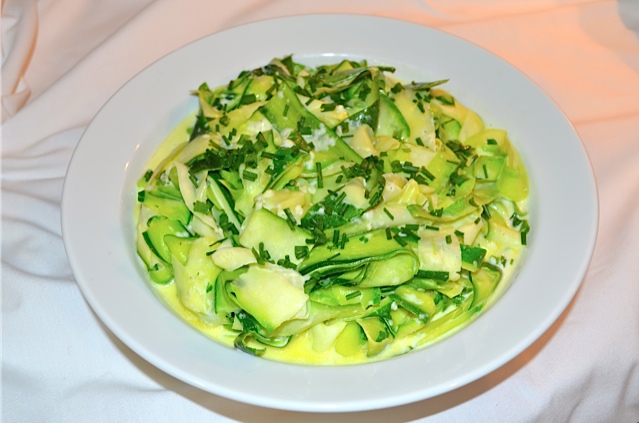 prepared by and photo by Emily S. Downs

Skip the carbs of Fettuccine Alfredo and switch out the pasta with zucchini.  A slightly healthier version of this all-time classic creamy dish.

Size:

4 servings



Ingredients:
12 medium zucchini
2 tbsp olive oil
3 cloves garlic, minced
2 cups heavy cream
2 tbsp butter
1 cup grated Parmesan cheese
1/2 tsp salt
1/2 tsp freshly ground black pepper
2-3 tbsp fresh chives & parsley, for garnish (optional)



Directions:




With a sharp vegetable peeler, make long noodles by starting at the top of the zucchini and "peeling" ribbons down the length of the zucchini.  Continue making ribbons as you turn the zucchini to get all the green part off first.  Keep making ribbons until the center portion becomes too thin to peel.  Set aside noodles.

Heat a medium saucepan.  Add the olive oil and garlic and saute for 1-2 minutes.  Add the cream.  Bring to a boil, then reduce heat and simmer until the mixture has a sauce-like consistency, about 12 minutes.

Meanwhile, heat a large skillet on medium high and add the butter and zucchini noodles.  Saute noodles for 2 to 3 minutes.

Stir the Parmesan cheese into the sauce mixture until melted.  Remove from heat.  Season with the salt and pepper.  Pour over zucchini noodles and toss to coat.  Sprinkle with chives if desired.