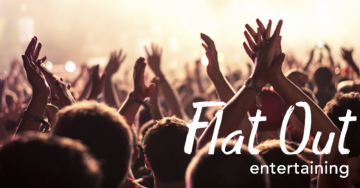 Flat Out Fridays  •  through August 12, 2016  •  6pm – 10pm
It's the biggest summer party every Friday night through August 12: Flat Out Friday. With the waterfront views, live music and outdoor patios, this is the ideal way to spend a Friday night in the city. Grab a beer or classic cocktail, sample tasty bits and apps while listening to live music.
For more info visit Flat Out Friday.
Old River Road, Cleveland OH 44113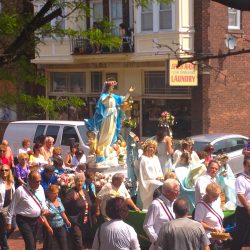 Feast of the Assumption •  August 12-15
One of our favorite Cleveland festivals: Feast of the Assumption. On Monday, Aug. 15, a solemn mass is celebrated in the church at 10 a.m., followed by a procession down Mayfield Road honoring the Virgin Mary. It follows with an outdoor festival filled with live music, amusement rides, church activities and all your favorite Italian foods: spaghetti and meatballs, cavatelli, meatball and sausage subs, calzones, italian ice, and cannolis.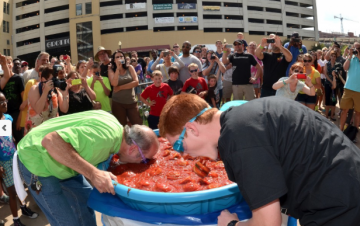 The National Hamburger Festival
August 13: 12pm -11pm & August 14: 12pm – 7pm
Frank and Charles Menches, of Akron, are known by many for inventing one of America's favorite sandwiches back in 1885: the hamburger. So it's fitting that the National Hamburger Festival has called Akron it's home for the last 11 years. Indulge in 20 area eateries serving-up 50 different styles of hamburgers!  During the festival, see who's man enough to survive the belly-busting challenge for only the hungriest. Dozens of competitors will eat as many hamburgers as they can...in just 10 minutes. Bob for burgers or sign your cutie pie up in the Baby Burger contest! Compete to be the next National Hamburger Festival Queen.
The festival raises money for one of Akron's favorite charities, Akron Children's Hospital.
Admission is $5 per day. Children 8 and under are free!
Lock 3 Park, 200 South Main Street, Akron, Ohio 44308
World YoYo Contest  •  August 3 – August 6
The World YoYo Contest is the largest gathering of competition yo-yo players and fans in the world. More than 1000 yo-yo players from 30+ countries, including Japan, USA, Iceland, China, Czech Republic, Russia, Italy, Mexico, Brazil, and many more, come to see the top players battle in seven divisions for the World YoYo Champion titles. On August 2nd the Cleveland Indians will play the Minnesota Twins at Progressive Field in Cleveland, Ohio, and Zach Gormley will kick everything off with the first pitch and then stick around for a quick yoyo routine. Tickets $15.
For more info go to: World YoYO
The Renaissance Cleveland Hotel, 24 Public Square, Cleveland OH 44113
The Great Lakes Burning River Festival
August 26, 2016 – August 27, 2016  •  6:00pm – 11:00pm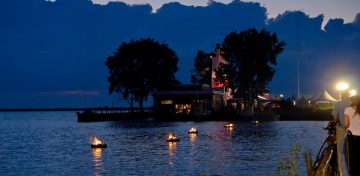 Eat, dance, drink and party during the Burning River Festival. The event will present 17 bands on two stages, great food from local farms and eateries, chef demos, and Great Lakes Brewing Company beer beer, including Burning River Pale Ale, Oktoberfest, and a special beer made just for the Burning River Fest. Food trucks will include The Pierogi Lady, wood fire pizza  from Sauced, pastas Ohio City Pasta. Marcus Alan Ward, MOON TAXI and Seafair will perform.
For more info and tickets, go to burningriverfest,
2800 Whiskey Island Dr, Cleveland Ohio 44102