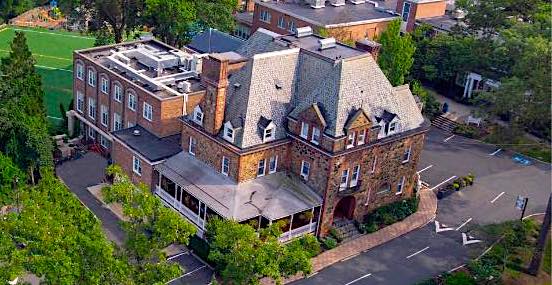 If you're considering private school for you child, Oak Knoll of the Holy Child might be just the perfect fit… and it may be New Jersey's best-kept secret. Located in Summit, NJ on a beautiful, sprawling 11-acre campus, Oak Knoll is the leader for transformative Catholic education and was named the 2022 Best School in New Jersey by Niche. Founded in 1924, their mission has been to cultivate intellectual, spiritual, physical, and emotional development in all of their students. Offering programs of study that are coeducational in pre-K to grade 6 and all girls in grades 7-12, an Oak Knoll education guides students to discover their purpose to make a significant, positive impact on the world.
What makes Oak Knoll unique?
Smaller classes. The average class size is only 14.
Diversity of socioeconomic, ethnic, and religious backgrounds. Oak Knoll families come from more than 68 surrounding towns and reflect a broad diversity.
Students giving back. 100 percent of their students participate in community service and/or outreach projects.
Being global minded. Oak Knoll is 1 of 9 Holy Child Network Schools across the U.S. and 13 overseas.
The holistic curriculum and co-curricular activities inspire academic achievement and freedom of expression.
A nurturing educational environment. Oak Knoll encourages students to focus on faith, wellness, and social emotional learning.
Home of the Royals. Athletes enjoy practicing and competing on the 14-acre of state-of-the-art athletic fields.
Ready to discover more about what makes Oak Knoll special? Register now for their upcoming Open House on October 20 or one of the other virtual or on-campus tours to learn more about how our graduates live lives of purpose in an ever-changing world.
Register for the October 20 Openhouse here: https://info.oakknoll.org/oak-knoll-admissions-events-2022-23
Oak Knoll School, 83 Ashland Road, Summit, NJ. 908-522-8100.
---
Put These Titles on You List:  35 Books We'd Read Again