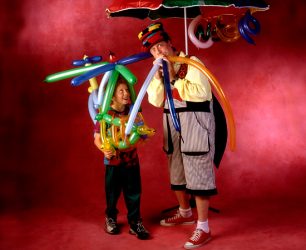 THURSDAY, NOVEMBER 10TH, 1:30 PM
Madcap balloon artist, Allynn Gooen, invites audience members into his stories to become the actors, while he creates the sets, props and costumes from twisted balloons.  Families are sure to enjoy an unforgetable, captivating interpretation of the classic "Wizard of Oz." Traditionally, clowns and magicians twist balloons into creatures for kids, but not Allynn Gooen. He uses balloons to turn the kids into creatures! $5 (under 2 free)
Purchase admission in advance online at www.ridgewoodnj.net/communitypass (under Village Parks and Recreation), or in person at the Stable, 259 N. Maple Avenue.
at THE ANNE ZUSY YOUTH CENTER
VILLAGE HALL, 131 NORTH MAPLE AVENUE, RIDGEWOOD