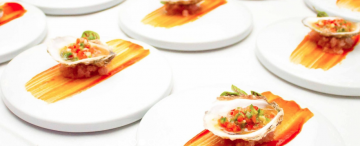 Monday, October 30  •  6:00 – 9:30pm
Unleash your inner "foodie" and experience a distinct evening of dining while helping to fund the research, services, education, and advocacy efforts of the American Liver Foundation. Flavors is a culinary experience that goes beyond the traditional gala providing each table of 12 guests with the unique experience of having a top local chef prepare a five-course, wine-paired dinner tableside. The evening showcases the signature dishes of our culinary experts, led by our Culinary Co-chairs Jeff Jarrett of US Foods and Adam Bostwick of Cork & Cleaver Social Kitchen, Graffiti: A Social Kitchen, and Polpetta.
The evening includes silent and live auctions, Wine Pull Raffle, Mystery Designer Purse Raffle, and the opportunity to hear from our 2017 LIVEr Champion and support the fund-the-mission.
Individual tickets are $250 each. A table sponsorship includes 12 tickets + additional benefits for $4,00
*Online ticket sales have now closed. Please contact khomer@liverfoundation.org to inquire about ticket availability.
Participating Chefs:
Jeff Jarrett– US Foods/Dinner in the Dark
Adam Bostwick– Cork & Cleaver Social Kitchen, Graffiti: A Social Kitchen, Polpetta
Brian Okin– Dinner in the Dark
Matthew Anderson– Zack Bruell Restaurant Group – Table 45
Chris Kafcsak– Nomad Culinary
Michael Grieve– Tartine Bistro
Vishwatej Nath– Urban Farmer
Maxime Kien– The Burnham at Hilton Cleveland Downtown
Corey Kosel– Umami Asian Kitchen
Chris Hodgson– Driftwood Restaurants and Catering
John Selick– University Hospitals and Sodexo
Michael Nowak– The Black Pig
Britt-Marie Culey– Coquette Patisserie
Michael Herschman– Lopez
Ben Freeman and Ari Vandendriessche– One Eleven Bistro
Josh Kielman– dba Dante Boccuzzi Akron
Dennis Devies– Music Box Supper Club
Nate Fagnilli– Crosswinds Grille
Zack Hirt– Nuevo Modern Mexican and Tequila Bar
Ryan Kaston– Bistro 185
Joe Lang– Red the Steakhouse
Dick Kanatzar– Chop & Swizzle Green
The Westin Cleveland Downtown, 777 Saint Clair Avenue NE, Cleveland, OH 44114