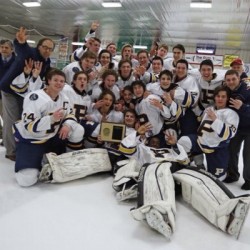 The Pelicans are the section champs for the 3rd straight year in a row. This weekend, Pelham's team is heading to Buffalo for the Division II State Championships. They'll go up against the Lakers in Buffalo.  Their team has a dynamic first line and plays great defense so there's no question that they can get Skaneateles out of their comfort zone.
Although Skaneateles has already beaten Pelham 4-1 during the season the Lakers were on their home ice. This will be the first time since 2012 that Pelicans have gone to the state semifinals.
Game day: Saturday, March 11 at 2:45 p.m. HarborCenter in Buffalo.