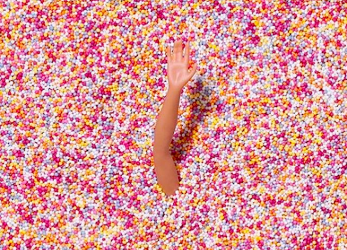 Have you ever dreamed of swimming in a rainbow "sprinkle" pool or dining on edible balloons?  Or maybe you prefer to seesaw on an ice cream scooper or swing on an ice cream sandwich built for two.  Your wish has come true!! Here's a way to beat the heat and eat ice cream!  This summer, NYC will present an interactive Ice Cream Museum, set to open on Friday, July 29 and remain open through Wednesday, August 31. It's located just steps away from both the Whitney Museum and the High Line.
Tickets are $18 per single adult, $30 for two adults, $12 for children under 10 and senior citizens.
If you go on the Museum's opening day between 11am and 3pm, admission is free and you will receive free ice cream. Admission includes ice cream tastings, with an assortment of flavors provided by Black Tap, OddFellows Ice Cream, and others.
The Ice Cream Museum, 100 Gansevoort Street, NY, NY.