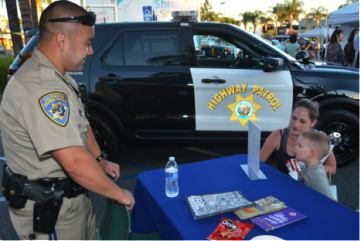 Where can you inspect emergency police vehicles, listen to live music, enjoy free hot dogs and a bike stunt show? Summit's National Night Out National Night Out (NNO) is an annual community-building campaign held the first Tuesday of August. In1984, the National Association of Town Watch (NATW), through a network of law enforcement agencies, crime prevention associations and community watches, was able to launch the first annual National Night Out campaign. It's goal is simple – to enhance relationships between residents and law enforcement, as well as celebrate a sense of community.
Towns, cities and neighborhoods across the nation host block parties, festivals, cookouts and community events with safety demonstrations, youth events, and visits from local law enforcement and first responders. More than 16,000 communities take part in NNO and Summit's celebration is sure to be one of the best!
This year, the Summit Police Department, in conjunction with the Summit Department of Community Services, will begin it's event at 6:00 pm at the Village Green with federal, state and municipal agencies showcasing different types of equipment and giving demonstrations. Aside from Summit's local police department, expect to see representatives from the FBI, Coast Guard, United States Border Patrol, Union County Sheriff's Officers and their K-9s, and Union County SWAT team.
The evening will also have fun events for adults and children including obstacle courses and bounce houses, a dog show by the Union County K-9 Unit, a Basketball Skills Competition with local cager Wellington Smith, as well as fitness demonstrations by The Bari Studio of Summit. Check out the Village Green's stage for live concerts from New Jersey's top cover band "Exit Row" and Leanne Weiss, and the always-popular Chris Clark Bike Stunt Show.
Plan on coming hungry since there will be a food court featuring delicious offerings from Pizza Vita, Taco Truck, Oink and Moo and Amanda's Bananas, as well as free hot dogs from the legendary PAL hot dog cart!
Summit's 2015 National Night Out Against Crime sponsors include Overlook Medical Center, The Grand Summit Hotel, the Hat Tavern, Bari Studio of Summit, Vita Organics, Vita Athletics, Summit Community Programs, and the Summit Police Athletic League.
Details: Summit's National Night Out, Summit Village Green, 365 Broad Street, across from the Summit train station. To learn more about National Night Out, please visit cityofsummit.org/NNO, or contact the Summit DCP at 908-277-2932 or Nikki Griffiths of the Summit Police Department at 908-277-9472.