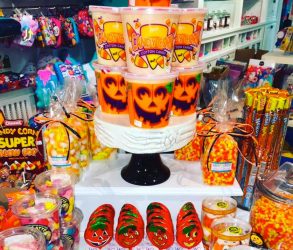 All of us at TipsFromTown love Sugar Rush. Just going inside the store makes me literally feel like a kid in a candy store. This month, they are fully stocked and ready for Halloween! Nut-free, super cute, Halloween cookies perfect for school parties because they have ingredients listed; customized or already prepared Boo-bags for your VIP friends; and cupcake decor for Halloween parties. Every Halloween, I like to have a few extra special treats to give out to my neighbors when the come to my door trick-or-treating. This is the place to get those.
---
And we have a special Halloween treat for our TipsFromTown readers:
MENTION TIPS AND GET AN EXTRA 10% OFF!
Sugar Rush, 10 Waverly Place in Madison.
Read more about Sugar Rush and there customized party bags and baskets.