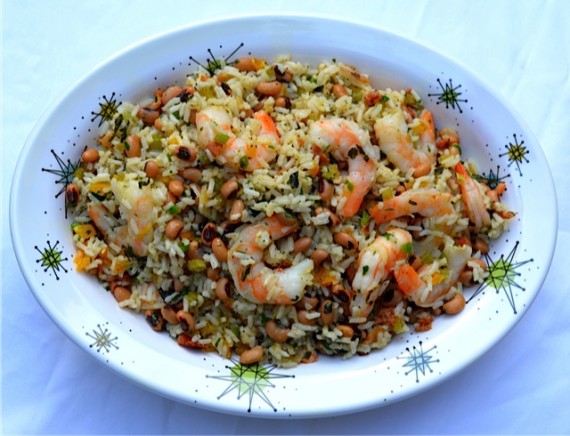 prepared by and photo by Emily S. Downs

A dish sometimes served in the South on New Year's Day, is thought to bring good luck in the new year. I figure, why not serve to your family and/or guests any time of the year! Who isn't in need of good luck 365 days each year?
(awesome dish for Fat Tuesday/Maris Gras as well!)

Size:

9 cups



Ingredients:
4 bacon slices, coarsely chopped
2 large shallots, finely chopped
1 yellow bell pepper, finely chopped
2 celery ribs, finely chopped
2 (15.8 oz) cans black-eyed peas, rinsed and drained
1 cup hot cooked rice
1 jalapeno chile, seeded and diced
1/4 cup chopped fresh basil
2 tbsp chopped fresh parsley
1 tsp lemon zest
1 tsp salt
1 tsp freshly ground black pepper
2 lbs peeled cooked shrimp
1/4 cup fresh lemon juice
1/2 cup olive oil



Directions:




Cook bacon in a large skillet over medium heat 5 minutes or until crisp. Add shallots, celery, and bell pepper; saute 7 minutes or until tender. Stir in black-eyed peas and next 8 ingredients. Remove from heat.

Combine lemon juice and oil; stir into shrimp mixture. Cover and chill several hours.