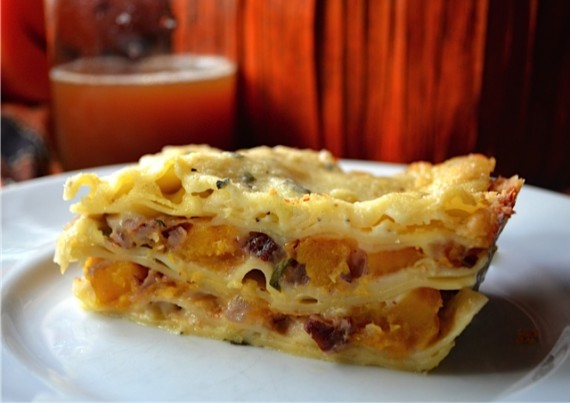 prepared by and photo by Emily S. Downs

Tasty variation on lasagna. Loaded with texture and flavor, this dish combines toasted pecans with the savory flavors of sautéed pumpkin (or butternut squash), garlic, onion and loads of cheese. Delicious on a chilly autumn night along with a tall glass of apple cider (recipe found in coastalliving.com).

Size:

8 servings



Ingredients:
1 cup pecan halves
5 tbsp butter, divided
5 cups peeled, cubed pumpkin or butternut squash (about 1 1/2 lbs)
1 onion, chopped
1 garlic clove, minced
1 1/2 tsp salt, divided
9 (9 3/4"x2") uncooked lasagna noodles
1/4 cup al-purpose flour
2 cups whole milk
2 tbsp minced fresh sage
1/2 tsp pepper
1 1/2 cps (6 oz) freshly grated Parmesan cheese, divided
1 1/2 cups (6 oz) shredded mozzarella cheese



Directions:




Preheat oven to 350F. Place pecans in a single layer on a baking sheet, and bake, stirring once, 7 minutes or until toasted. Transfer to a plate to cool; chop.

Melt 2 tablespoons butter in a large nonstick skillet over medium heat. Add pumpkin, onion, garlic, and 3/4 teaspoon salt; cook, stirring often, 15 minutes or until pumpkin is just tender. Stir in pecans; set aside.

Cook lasagna noodles according to package directions. Rinse with cool water, and cover with plastic wrap until ready to assemble.

Melt remaining 3 tablespoons butter in a medium saucepan over medium heat. Add flour and cook, whisking constantly, 1 minute. Gradually whisk in milk. Add sage, pepper, and remaining 3/4 teaspoon salt; cook, whisking constantly, about 9 minutes or until thickened. Remove from heat, and whisk in 1 cup Parmesan cheese.

Spread 1/3 cup sauce in a greased 13×9″ baking dish. Top with 3 lasagna noodles. Spread with about 2/3 cup sauce, half pumpkin mixture (about 2 1/4 cups), and 3/4 cup mozzarella. Top with 3 more lasagna noodles. Spread 2/3 cup sauce over noodles, top with remaining pumpkin mixture, and sprinkle with mozzarella. Top with remaining 3 lasagna  noodles. Spread remaining sauce over noodles. Sprinkle with 1/4 cup Parmesan cheese. Cover tightly with aluminum foil, and bake 30 minutes.

Remove foil; sprinkle with remaining 1/4 cup Parmesan, and bake 10 minutes or until golden brown. Let stand 10 minutes before serving.