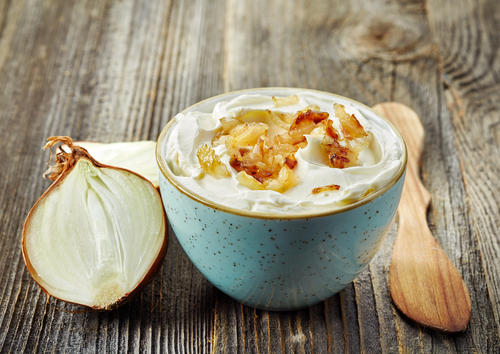 I love onion dip. My favorite was Ina Garten's pan-fried onion dip. Unfortunately, it is one of the worst things you can eat. Loaded with fat and bad stuff. So, I hacked the recipe and everyone loves it. You can eat it with no guilt. You can serve it with low-fat potato chips or veggies.

I double or triple it when I make it. My kids love it and I feel good feeding it to them.

Size:

about 2 cups



Ingredients:
2 onions-chopped
olive oil-cover bottom of pan
1/4 teaspoon ground cayenne
1/2 tsp salt
1/2 tsp black pepper
1 large tub Greek non-fat yogurt



Directions:




Cut the onions in half and then slice them into 1/8-inch thick half-rounds. (You will have about 3 cups of onions.) Then cut them into quarters. Heat the olive oil in a large saute pan over medium heat. Add the onions, cayenne, salt, and pepper and saute for 10 minutes. Reduce the heat to medium-low and cook, stirring occasionally, for 30 more minutes until the onions are browned and caramelized. Allow the onions to cool.

Then add the whole container of yogurt. You can always add more spice if you need to.

Enjoy!