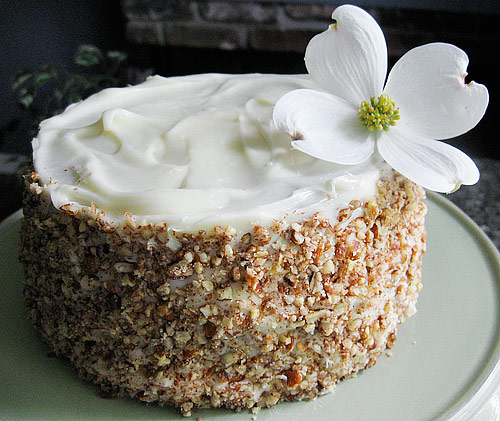 This Hummingbird cake is delicious beyond belief, it's exceptionally easy to make, with a batter that requires just one bowl and a little stirring and a cream cheese frosting that comes together quickly in the mixer. Since Hummingbird Cake stays moist and fresh for days, it's a perfect cake to make ahead. This recipe is from Ezra Pound Cake.
Ingredients
3 cups all-purpose flour
2 cups sugar
1 teaspoon baking soda
1 teaspoon ground cinnamon
1 teaspoon salt
3 eggs, beaten
1 1/2 cups vegetable oil
1 1/2 teaspoons vanilla extract
1 (8-ounce) can crushed pineapple, undrained
2 cups chopped pecans, divided
2 chopped bananas
Cream Cheese Frosting (recipe below)
Directions
Preheat the oven to 350 degrees F. Grease and flour three 9-inch cake pans, or spray them with a nonstick spray. In a large bowl, combine flour, sugar, baking soda, cinnamon and salt. Add eggs, oil and vanilla; stir just until dry ingredients are moistened.
Stir in pineapple, 1 cup chopped pecans and bananas.
Spoon batter into prepared cake pans. Bake 25 to 30 minutes. Remove from pans, and cool immediately. When the cakes are completely cooled, spread frosting between layers and on top and sides of cake. Sprinkle with 1 cup chopped pecans.
Cream Cheese Frosting
2 (8-ounce) packages cream cheese, room temperature
1 cup (2 sticks) butter, softened
2 pounds powdered sugar
2 teaspoons vanilla extract
In a standing mixer fitted with a paddle attachment, combine cream cheese and butter; cream until smooth. Add powdered sugar, beating until light and fluffy. Stir in vanilla.