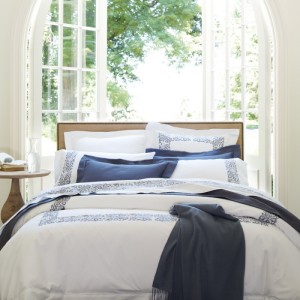 Your bedding makes a big difference in the quality of your sleep, and sheets make a big difference in the quality of your bedding. You may need some help narrowing down your selection when you're shopping for sheets.
Material: While cotton is still king in the world of sheets, that doesn't mean there aren't other options. If you want a set of cozy sheets for the winter, a couple great options are cotton flannel sheets and microfiber fleece sheets, both of which have a soft, fuzzy finish to keep you warm at night. If you want something extra luxurious, take a look at satin sheets or cotton sateen sheets. Each of these fabrics has a silky, glossy finish that looks and feels wonderful. If you want cotton sheets that are a step up from the norm, you can find high-quality Egyptian cotton sheets, high thread count sheets made from cotton, cotton damask sheets, and even eco-friendly organic cotton sheets.
Size: It barely needs mentioning that sheets and sheet sets come in the usual twin, full, queen, and king sizes. However, there are a few exceptions to the sizing norm. If you have a pillow-top mattress, you will probably want to buy deep-pocket sheets, which are fitted sheets with extra deep corners designed to fit over extra-thick pillow-top mattresses. If you have a California king-size mattress, be sure to shop for California king-size sheets because standard king-size sheets won't fit your bed.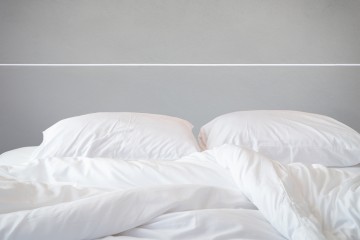 Thread count: Thread count is the total number threads that run horizontally and vertically in a square inch of fabric. A higher thread count indicates a tighter weave and lends softness and durability to the material. A thread count of at least 200 makes a comfortable, long lasting sheet. Sheets with a thread count of 300 to 400 are a little nicer yet still affordable. 400 to 900 thread count sheets may cost a little more but are worth it if it's softness you want. Thread counts of 1000 or more make very soft and smooth sheets and are the height of luxury; however, the finer threads necessary to achieve this high thread count often make these types of sheets less durable.
Weave: Weave creates the texture of the fabric and affects the look and feel of the sheets. Sheets are usually made from either percale weave fabrics or sateen weave fabrics. Percale sheets are woven closely in a kind of basket weave and have no gloss, creating smooth-textured sheets. Sateen sheets are woven with more fibers on the fabric surface, creating a luster like that of satin sheets.
If you're really investing in bedding, Italian linens are considered the best. They have true thread counts. The Pratesi and Frette bed linens are among the best you can purchase. Same is true for the Venus Rising Limited brand which designers use because of the rich colors. All of the Pratesi is Made in Italy, and has become known as an ultimate status symbol for a reason. The Pratesi family has the oldest contracts in Egypt, which allows it to be ultra-selective regarding the cotton it purchases.
Schweitzer Linen The 1,000-count Splendour sateen sheets, which are woven and finished in Italy and have hemstitched flanges, can be found in Schweitzer's three Manhattan locations. Sets are available in white or cream, but they sell so well that the company is considering expanding the color options.
Sferra The company that debuted 1,000-count sheets now produces six collections, among them Milos (with hemstitch detail), Millesimo (includes lace design at the hem), and Capri (featuring a jacquard inset). Of course, Sferra uses Egyptian cotton and the finishing is done in Italy.