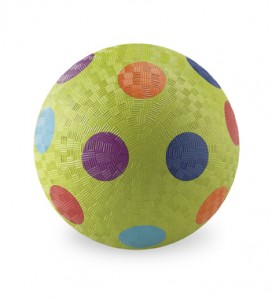 Unfortunately baby toys are often recalled by the Consumer Product Safety Commission for containing lead and other toxic materials. Even baby toys that are generally considered safe by consumer agencies often contain materials such as PVC, phthalates or BPA. While it may be almost impossible to eliminate all potentially hazardous toys from your baby's environment, every little bit helps. These companies are dedicated to making safe and fun toys for your little one. You can buy them directly from the manufacturers or at online retailers such as Babyearth and amazon.
Crocodile Creek playground balls are made of 100% rubber and contain no lead, PVC, BPA, or vinyl. The company also makes educational floor puzzles (such as the 50 piece USA map puzzle) for kids aged 3 and up.
2. Green Toys
Green Toys offers a variety of eco-friendly and non-toxic toys, all of which are free of BPA, phthalates, lead, nitrosamines and other potentially harmful materials. The toys are made in California using recycled milk jugs (which are made of high-density polyethylene, one of the safest plastics). The company offers outdoor toys (such as jump ropes and dump trucks) and indoor toys (such as tea sets, dining sets and cookware).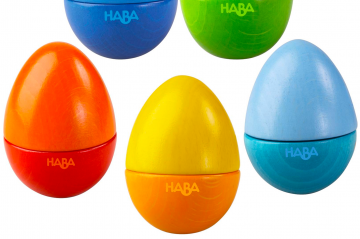 3. Haba
Haba manufactures a wide range of toys for babies and children of all ages. The product line includes rattles, clutching toys, fabric balls, mobiles, hand puppets, shape and color games and much more. Made in Germany and China.
4. Holztiger
Holztiger manufactures a wide range of wooden toys. The toys are hand carved and hand painted with non-toxic water paint and water lacquer. Made in Germany.
5. Käthe Kruse
Käthe Kruse manufactures toys and dolls for all ages, from teethers to grabtoys and play pillows to dolls. All products are handmade at the company's manufacturing facilities in Europe. The toys and dolls are made of natural fabrics such as cotton and wood. PVC is used in the manufacturing process but without the use of phthalate plasticizers. Made in Germany, Latvia and Belarus.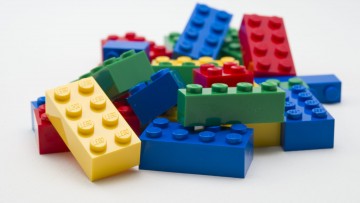 6. Lego
Lego blocks and figures are primarily made of ABS plastic (acrylonitrile butadiene styrene) and do not contain any PVC, phthalates and BPA. Lego has a laboratory for plastic materials and testing in Denmark to ensure product safety. Lego sells building blocks and kits to children aged 18 months and older.
Melissa and Doug manufacture a wide range of baby, toddler and children's toys from soft baby toys to puzzles and from dollhouses to trains and other vehicles. The company is dedicated to creating safe toys for all ages and has a product safety sheet for each product.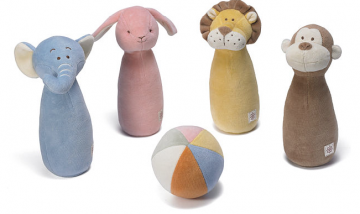 8. miYim
MiYim offers a wide collection of plush toys and knit toys (such as Fred the Plush Monkey and Victoria the Plush Bunny) as well as a range of infant accessories, including stacker toys, stroller toys, plush rattles, knit teethers and lovie blankies, all made of 100% organic cotton.
9. P'kolino
P'kolino makes wooden stacking toys (made of rubber wood with non-toxic paint finishes), wooden puzzles (with plywood base), and a multi-functional art easel to be used with non-toxic, water-based paints, crayons, and pencils.
10. Plan Toys
Plan Toys makes eco-friendly, non-toxic wooden toys using only green materials (chemical free rubberwood, non-toxic glue, water-based paints, and recycled materials) in its green manufacturing processes (including solar power). The company makes baby toys, preschool toys, activity and make-believe toys (check out their toddler sized "washing machine"), and dollhouses.
11. Spielstabil
Spielstabil manufactures a wide range of baby and children's activity toys, such as buckets with sand moulds, telephones, baking utensils, hard hats and the like. The toys are made of ABS plastic (acrylonitrile butadiene styrene) and do not contain any PVC, BPA or phthalates.
12. Under the Nile
Under the Nile sells soft baby toys made of organic cotton. Made in Egypt.
13. Vulli
Vulli makes toys for babies and toddlers, including a wide range of natural rubber teething toys, all of which are free of PVC, phthalates and BPA. Most products made in France.
Looking for more stories about children? Don't Miss "Why Having a Baby Doesn't Have to Drain Your Wallet."