Send your student a pre-made care package. Hip Kits offers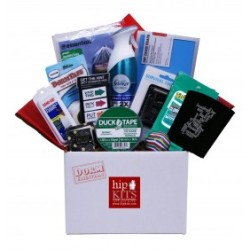 college care packages, gifts and essentials for students. They specialize in fun, inspiring and perfectly curated care packages designed to offer support and encouragement to students at any stage of college. Hip Kits are for exams, holidays, dorm essentials, birthdays or just to say I miss you!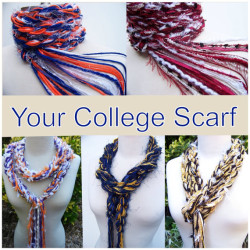 Cheer on your favorite team! The Pippy crochet scarf can be worn all year long. It makes a great gift for any student. They will create the perfect scarf for ANY SCHOOL with any colors for $23. Or check out this unisex striped collegiate scarf from Blazing Needles. Personalized with any name. Yarn is soft and drapable so you can wear it long or wrap it around. Scarf is 88″ long and 4″ wide. Made of soft acrylic yarn for $35.
Handmade and custom pillows will spruce up any dorm room. Personalize them with embroidered college n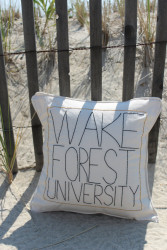 ames from Buttermilk Custom. I Decorate With Pillows on Etsy created a reversible duvet cover made for a twin size bed and perfect for any dorm. It is reversible, stylish, can be monogrammed, and will fit any XL Twin Bed $130. Or check out t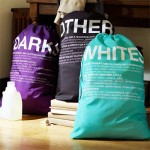 heir Chevron Laundry Bags for $25. Separate out your whites, darks and everything in between. Each bag is printed with directions to help make laundry day simple from PB Teen $24.99 for 3 bags! Campus Quilt can turn an old pile of t-shirts into a priceless blanket that your child will enjoy for decades. The blanket really looks unified as a quilt should, but yet still has all the charm of the original shirts. From $129 and up, with 16 square quilts.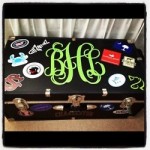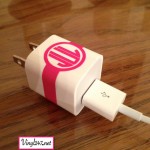 A great college gift. Buy a trunk from Bed, Bath, and Beyond or a multi-color camp trunk and then add stickers from local places and paint or add a monogram decal.  Who doesn't lose iPhone chargers? Get students  Monogram iPhone Decals to help keep track of those chargers. More DIY Ideas: Put together a college/dorm survival kit with all those little things that one forgets when packing up for living on your own for the first time (from Just For You By Jessica Blog). A fun gift to send off a high school grad heading to a college dorm, this basket includes cute little rhymes to attach to each item in this Off To College Gift Basket. These books are useful for those just leaving home, this is a great gift for many students or care packages.  The Starving Students' Cookbook, Where's Mom Now That I Need Her?, and The Healthy College Cookbook. All three bought together on amazon – $36.